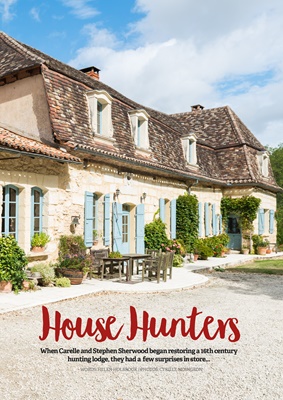 LEGGETT IMMOBILIER - LOCAL KNOWLEDGE YOU CAN TRUST 7
LEGGETT MAGAZINE PEOPLE
SALES SUPPORT TEAM
Run by Natalie Leggett (we said
it was a family business), our
call centre team will take your
brief, guide you to suitable
areas within France and create
a viewing itinerary to fit your
needs. They speak English,
French, Dutch and German -
and we have native speakers of
Chinese, Russian, Spanish and
plenty of other languages too.
Once your itinerary is in place
you will be met by your local
agents and shown around each
property. Natalie and her team
will be on hand before, during
and after to make sure things run
smoothly.
CONTRACTS TEAM
How many estate agents in
France can boast that they have
an in-house contracts team who
will liaise with local notaires to
ensure everything is fully understood
and that no details are
missed? We know that buying
a house can be a stressful time.
That's why we offer bilingual
contracts and such personalised
advice - we even have our own
notaire within the team. We'll be
by your side from start to finish,
explaining the process each step
of the way. Over the years we
have dealt with thousands of
notaires right across France. Not
much surprises us anymore!
MARKETING TEAM
If you are looking to sell your
house in France then you're
in the right place. We know
our local markets as well as
anyone, but it's our access to
international buyers that makes
us special. Joanna Leggett and
her team oversee a marketing
programme that exposes your
property to buyers from all over
the world. We attend specialist
property exhibitions in the UK,
France and Belgium, and our
properties are advertised on
international portals such as
Rightmove Overseas, SeLoger
and Lux Residence. We advertise regularly
in mainstream
publications like the Financial
Times and Country Life International. And our ads can be
seen throughout the specialist
French property magazines.
We have exclusive agreements
with partner agencies (such as
Hamptons International in the
UK), and our website receives
1.5m visitors annually from
over 220 different countries.
No other agency in France can
offer this type of international
marketing to their vendors.
IT TEAM
This is the engine room of any
modern business, and ours is
no different. We understand
that the way people search
for property is evolving daily.
Modern buyers require detailed
information that is easy to
access. That's why, in France, we
are pioneers in the use of 'virtual tours'
and are introducing
floor plans on many of our new
instructions. Our website offers
over 11,500 different properties for
sale. You can search
them by price, location, time on
the market or property style.
Search engines appreciate our
site too, and you'll often find
us at the top of the rankings on
Google and other portals.
If you're looking to buy or sell a
property in France, we'd love to
hear from you!
HEAD OFFICE
Leggett Immobilier
42 Route de Riberac
24340 La Rochebeaucourt
France
Offices also in St Emilion,
Carcassonne, Mansle,
Riberac, Rochechouart,
Montignac, Le Bugue &
St Foy la Grande.
Tel + 33 (0)5 53 56 62 54
IT TEAM
The IT team headed
by Ludovic Boyer
and Simon Langdon