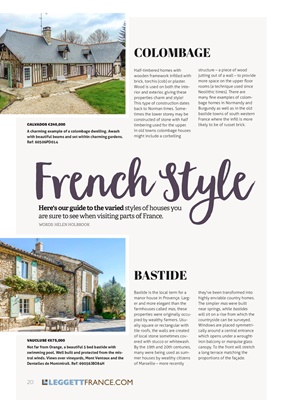 must be provided at the time you apply
for the French mortgage. The funds will
be paid directly to the contractors once
the work has been completed. Be careful:
the quotes must be accurate. The final
costs cannot vary significantly from the
quoted costs.
A FRENCH MORTGAGE?
Borrowing money against a property
you already own in France is much less
common than in the US, UK or other
home markets. It is also more expensive
in terms of fees.
In France, the most straightforward
and cost-effective time to secure finance
against a second home is at the time of
purchase. It is therefore critical to give
some thought as to whether you want
a French mortgage secured against the
property. If you decide you do, make sure
you pick the right mortgage product.
A good French mortgage broker will
save you money by selecting the most
suitable French mortgage product. In
many cases they offer discounted rates
and fees - which are not available when
you approach the banks directly.
20
Securing finance for the purchase of
your property in France is an
important part of the process.
You may need it for affordability
reasons, to increase your budget, or
simply for financial and tax planning
purposes. Let's take a look at some
elements you should consider
WORDS: SIMON SMALLWOOD | PHOTOS: SHUTTERSTOCK
W
hen securing a
mortgage against your
property in France (as
opposed to raising
money against your
primary residence), two main options
are open to you. The first is to take out
a mortgage with a domestic retail bank
in France. These lenders can provide
French mortgages, on a standalone basis,
across a wide range of budgets. They are
secured against properties in all locations
throughout France. The downside of this
option is that French retail lenders have
strict criteria in terms of assessing
affordability and in deciding who they
lend to. They have little flexibility or
interest in deviating from these rules.
The second option is to arrange a
facility via a private bank. This is only
available for high value properties and
loan facilities of €1 million or above.
These institutions can be based in
France or in offshore centres such as The
Channel Islands, Monaco, Geneva and
Luxembourg. The drawback with these
options is that you'll need to develop
a wider banking relationship with the
lender. This means making additional
investments with them, as they will not
provide a mortgage/finance facility on
a standalone basis. The advantages
are firstly that private banks are more
flexible than the retail lenders in terms of
their criteria. Secondly, the interest rates
you pay are currently very low - around
2% on an interest-only basis.
TYPES OF MORTGAGE
French mortgages to finance the purchase of
a property are widely available
from many French banks. The most prevalent products
are capital and repayment
mortgages over terms of up to 25 years.
Variable rate mortgages are fairly common. Although you
are not protected if
interest rates rise, they have few - if any
- penalties for repaying the loan early.
Long term fixed rates are very popular
in France, and 10-, 15- or 20-year fixed
rates are available. Interest-only mortgages
are less common, though some
options are available if you can prove
you have the assets/savings to repay the
capital sum.
Private banks typically offer interest-only
facilities over a five-year period.
These facilities may be renewed, so you
should maintain your relationship with
the facility provider. For an idea of the
latest rates, you can view our French
mortgage 'best buy' tables at
www.internationalprivatefinance.com.
Mortgages for purchase-and-renovation, as well
as pure-renovation, are available.
However, the French lenders require
the work to be carried out by registered
French builders. All quotes for the work
Intelligent
FINleggett@internationalprivatefinance.comNE
For further information telephone
+44 (0)207 484 4642 or email
Leggett@internationalprivatefinance.com
or visit the website