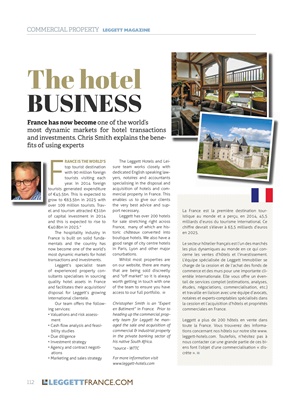 France has now become one of the world's
most dynamic markets for hotel transactions
and investments. Chris Smith explains the benefits
of using experts
La France est la première destination touristique au monde et a perçu,
en 2014, 45,5
milliards d'euros du tourisme international. Ce
chiffre devrait s'élever à 63,5 milliards d'euros
en 2025.
Le secteur hôtelier français est l'un des marchés
les plus dynamiques au monde en ce qui concerne
les ventes d'hôtels et l'investissement.
L'équipe spécialisée de Leggett Immobilier se
charge de la cession et de l'achat des fonds de
commerce et des murs pour une importante clientèle internationale.
Elle vous offre un éventail de services
complet (estimations, analyses,
études, négociations, commercialisation, etc.)
et travaille en liaison avec une équipe d'avocats,
notaires et experts-comptables spécialisés dans
la cession et l'acquisition d'hôtels et propriétés
commerciales en France.
Leggett a plus de 200 hôtels en vente dans
toute la France. Vous trouverez des informations concernant
nos hôtels sur notre site www.
leggett-hotels.com. Toutefois, n'hésitez pas à
nous contacter car une grande partie de ces biens font
l'objet d'une commercialisation «  discrète
».
112
COMMERCIAL PROPERTY LEGGETT MAGAZINE
F
RANCE IS THE WORLD'S
top tourist destination
with 90 million foreign
tourists visiting each
year. In 2014 foreign
tourists generated expenditure
of €45.5bn. This is expected to
grow to €63.5bn in 2025 with
over 109 million tourists. Travel and tourism attracted
€31bn
of capital investment in 2014
and this is expected to rise to
€40.8bn in 2025.*
The hospitality industry in
France is built on solid fundamentals and the country
has
now become one of the world's
most dynamic markets for hotel
transactions and investments.
Leggett's specialist team
of experienced property consultants specialises in sourcing
quality hotel assets in France
and facilitates their acquisition/
disposal for Leggett's growing
international clientele.
Our team offers the following services:
• Valuations and risk assess ment
• Cash flow analysis and feasi bility studies
• Due diligence
• Investment strategy
• Agency and contract negoti ations
• Marketing and sales strategy
The Leggett Hotels and Leisure
team works closely with
dedicated English speaking lawyers,
notaires and accountants
specialising in the disposal and
acquisition of hotels and commercial
property in France. This
enables us to give our clients
the very best advice and support necessary.
Leggett has over 200 hotels
for sale stretching right across
France, many of which are historic châteaux
converted into
boutique hotels. We also have a
good range of city centre hotels
in Paris, Lyon and other major
conurbations.
Whilst most properties are
on our website, there are many
that are being sold discreetly
and "off market" so it is always
worth getting in touch with one
of the team to ensure you have
access to our full portfolio.
Christopher Smith is an "Expert
en Batiment" in France. Prior to
heading up the commercial property team
for Leggett he managed the sale and acquisition of
commercial & industrial property
in the private banking sector of
his native South Africa.
*source - WTTC
For more information visit
The hotel
BUSINESS
LEGGETTFRANCE.COM