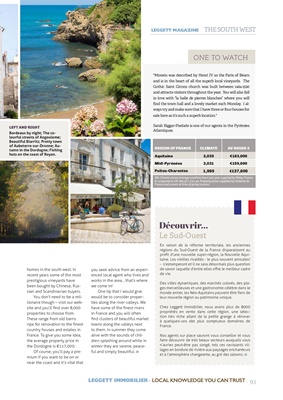 93
LEGGETT IMMOBILIER - LOCAL KNOWLEDGE YOU CAN TRUST
NB : Climate shows average sunshine hours per year supplied by Meteo France
& compared to UK rate of 1,341 pa. Property prices supplied by Notaires de
France and correct at time of going to press.
REGION OF FRANCE
CLIMATE
AV HOUSE €
Aquitaine 2,035 €183,000
Midi-Pyrénées 2,031 €159,600
Poitou-Charentes 1,995 €137,800
"Monein was described by Henri IV as the Paris of Béarn
and is in the heart of all the superb local vineyards. The
Gothic Saint Girons church was built between 1464-1520
and attracts visitors throughout the year. You will also fall
in love with "la halle de pierres blanches" where you will
find the town hall and a lovely market each Monday. I always
try and make sure that I have three or four houses for
sale here as it's such a superb location."
Sarah Biggar-Piedade is one of our agents in the Pyrénées
Atlantiques.
LEGGETT MAGAZINE THE SOUTH WEST
Découvrir...
Le Sud-Ouest
En raison de la réforme territoriale, les anciennes
régions du Sud-Ouest de la France disparaissent au
profit d'une nouvelle super-région, la Nouvelle Aquitaine.
Les vieilles rivalités - le plus souvent amicales !
- s'estomperont et il ne sera désormais plus question
de savoir laquelle d'entre elles offre le meilleur cadre
de vie.
Des villes dynamiques, des marchés colorés, des plages
merveilleuses et une gastronomie célèbre dans le
monde entier, les Néo-Aquitains peuvent être fiers de
leur nouvelle région au patrimoine unique.
Chez Leggett Immobilier, nous avons plus de 8000
propriétés en vente dans cette région, une sélection très
riche allant de la petite grange à rénover
à quelques-uns des plus somptueux domaines de
France.
Nos agents sur place sauront vous conseiller et vous
faire découvrir de très beaux secteurs auxquels vous
n'auriez peut-être pas songé, tels ces ravissants villages
en bordure de rivière aux paysages enchanteurs
et à l'atmosphère changeante, au gré des saisons.
homes in the south west. In
recent years some of the most
prestigious vineyards have
been bought by Chinese, Russian and Scandinavian
buyers.
You don't need to be a millionaire
though - visit our website and you'll
find over 8,000
properties to choose from.
These range from old barns
ripe for renovation to the finest
country houses and estates in
France. To give you some idea,
the average property price in
the Dordogne is €117,000.
Of course, you'll pay a premium if you
want to be on or
near the coast and it's vital that
you seek advice from an experienced
local agent who lives and
works in the area… that's where
we come in!
One tip that I would give
would be to consider properties along the river
valleys. We
have some of the finest rivers
in France and you will often
find clusters of beautiful market
towns along the valleys next
to them. In summer they come
alive with the sounds of children
splashing around while in
winter they are serene, peaceful and simply beautiful.
ONE TO WATCH
LEFT AND RIGHT
Bordeaux by night; The colourful streets
of Angouleme;
Beautiful Biarritz; Pretty town
of Aubeterre-sur-Dronne; Autumn in the Dordogne;
Fishing
huts on the coast of Royan.