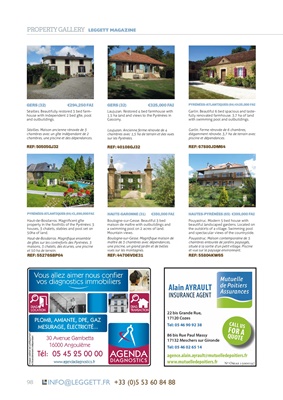 98
PROPERTY GALLERY LEGGETT MAGAZINE
Alain AYRAULT
INSURANCE AGENT
22 bis Grande Rue,
17120 Cozes
Tel: 05 46 90 92 38
86 bis Rue Paul Massy
17132 Meschers sur Gironde
Tel: 05 46 02 65 14
agence.alain.ayrault@mutuelledepoitiers.fr
www.mutuelledepoitiers.fr No Orias 15000197
CALL US
FOR A
QUOTE
PYRÉNÉES-ATLANTIQUES (64) €1,890,000 FAI
Haut-de-Bosdarros. Magnificent gîte
property in the foothills of the Pyrénées: 3
houses, 3 chalets, stables and pool set on
50ha of land.
Haut-de-Bosdarros. Magnifique ensemble
de gîtes sur les contreforts des Pyrénées. 3
maisons, 3 chalets, des écuries, une piscine
et 50 ha de terrain.
REF: 55276SBP64
HAUTE-GARONNE (31) €350,000 FAI
Boulogne-sur-Gesse. Beautiful 3 bed
maison de maître with outbuildings and
a swimming pool on 2 acres of land.
Mountain views.
Boulogne-sur-Gesse. Magnifique maison de
maître de 3 chambres avec dépendances,
une piscine, un grand jardin et de belles
vues sur les montagnes.
REF: 44706VDE31
HAUTES-PYRÉNÉES (65) €399,000 FAI
Pouyastruc. Modern 5 bed house with
beautiful landscaped gardens. Located on
the outskirts of a village. Swimming pool
and spectacular views of the countryside.
Pouyastruc. Maison contemporaine de 5
chambres entourée de jardins paysagés,
située à la sortie d'un petit village. Piscine
et vue sur le paysage environnant.
REF: 55804KW65
GERS (32) €294,250 FAI
Séailles. Beautifully restored 3 bed farmhouse with independent 2 bed gîte,
pool
and outbuildings.
Séailles. Maison ancienne rénovée de 3
chambres avec un gîte indépendant de 2
chambres, une piscine et des dépendances.
REF: 50505GJ32
GERS (32) €325,000 FAI
Laujuzan. Restored 4 bed farmhouse with
1.5 ha land and views to the Pyrénées in
Gascony.
Laujuzan. Ancienne ferme rénovée de 4
chambres avec 1,5 ha de terrain et des vues
sur les Pyrénées.
REF: 40108GJ32
PYRÉNÉES-ATLANTIQUES (64) €425,000 FAI
Garlin. Beautiful 6 bed spacious and tastefully renovated
farmhouse. 3.7 ha of land
with swimming pool and outbuildings.
Garlin. Ferme rénovée de 6 chambres,
élégamment r&info@leggett.fr. 3,7 ha de terrain avec
piscine et dépendances.
REF: 67880JDM64
INFO@LEGGETT.FR +33 (0)5 53 60 84 88