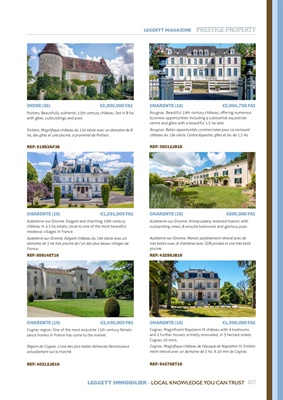 LEGGETT MAGAZINE PRESTIGE PROPERTY
INDRE (36) €2,200,000 FAI
Poitiers. Beautifully authentic 13th century château. Set in 8 ha
with gÎtes, outbuildings and pool.
Poitiers. Magnifique château du 13e siècle avec un domaine de 8
ha, des gîtes et une piscine, à proximité de Poitiers.
REF: 51993AF36
CHARENTE (16) €2,094,750 FAI
Rougnac. Beautiful 19th century château, offering numerous
business opportunities including a substantial equestrian
centre and gÎtes with a beautiful 1.5 ha lake.
Rougnac. Belles opportunités commerciales pour ce ravissant
château du 19e siècle. Centre équestre, gîtes et lac de 1,5 ha.
REF: 39312JB16
CHARENTE (16) €1,291,500 FAI
Aubeterre-sur-Dronne. Elegant and charming 19th century
château in a 5 ha estate, close to one of the most beautiful
medieval villages in France.
Aubeterre-sur-Dronne. Elégant château du 19e siècle avec un
domaine de 5 ha très proche de l'un des plus beaux villages de
France.
REF: 65914ET16
CHARENTE (16) €895,000 FAI
Aubeterre-sur-Dronne. Immaculately restored manoir, with
outstanding views, 8 ensuite bedrooms and glorious pool.
Aubeterre-sur-Dronne. Manoir parfaitement rénové avec de
très belles vues, 8 chambres avec SDB privées et une très belle
piscine.
REF: 43295JB16
CHARENTE (16) €2,450,000 FAI
Cognac region. One of the most exquisite 15th century Renaissance
homes in France has come to the market.
Région de Cognac. L'une des plus belles demeures Renaissance
actuellement sur le marché.
REF: 40212JB16
CHARENTE (16) €1,590,000 FAI
Cognac. Magnificent Napoleon III château with 9 bedrooms
and 2 further houses, entirely renovated, in 3 hectare estate.
Cognac 20 mins.
Cognac. Magnifique château de l'époque de Napoléon III. Entièrement rénové
avec un domaine de 3 ha. A 20 min de Cognac.
REF: 54376ET16
107
LEGGETT IMMOBILIER - LOCAL KNOWLEDGE YOU CAN TRUST