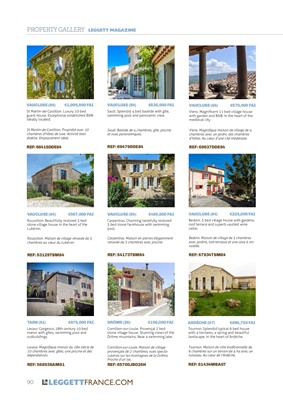 9090
PROPERTY GALLERY LEGGETT MAGAZINE
VAUCLUSE (84) €567,000 FAI
Roussillon. Beautifully restored 3 bed
stone village house in the heart of the
Lubéron.
Roussillon. Maison de village rénovée de 3
chambres au cœur du Lubéron.
REF: 53129TSM84
VAUCLUSE (84) €485,000 FAI
Carpentras. Charming tastefully restored
3 bed stone farmhouse with swimming
pool.
Carpentras. Maison en pierres élégamment
rénovée de 3 chambres avec piscine.
REF: 54173TSM84
VAUCLUSE (84) €225,000 FAI
Bedoin. 3 bed village house with gardens,
roof terrace and superb vaulted wine
cellar.
Bedoin. Maison de village de 3 chambres
avec jardins, toit-terrasse et une cave à vin
voûtée.
REF: 67934TSM84
TARN (81) €975,000 FAI
Lavaur. Gorgeous 18th century 10 bed
manor with gîtes, swimming pool and
outbuildings.
Lavaur. Magnifique manoir du 18e siècle de
10 chambres avec gîtes, une piscine et des
dépendances.
REF: 56893SAM81
DRÔME (26) €160,000 FAI
Cornillon-sur-Loule. Provençal 2 bed
stone village house. Stunning views of the
Drôme mountains. Near a swimming lake.
Cornillon-sur-Loule. Maison de village
provençale de 2 chambres, vues specta-
culaires sur les montagnes de la Drôme.
Proche d'un lac.
REF: 65700JBO26H
ARDÈCHE (07) €896,750 FAI
Tournon. Splendid typical 6 bed house
with 4 hectares, a spring and beautiful
landscape. In the heart of Ardèche.
Tournon. Maison de ville traditionnelle de
6 chambres sur un terrain de 4 ha avec un
ruisseau. Au cœur de l'Ardèche.
REF: 61434MBA07
VAUCLUSE (84) €1,099,900 FAI
St Martin-de-Castillon. Luxury 10 bed
guest house. Exceptional established B&B
ideally located.
St Martin-de-Castillon. Propriété avec 10
chambres d'hôtes de luxe. Activité bien
établie. Emplacement idéal.
REF: 68415DDE84
VAUCLUSE (84) €625,000 FAI
Sault. Splendid 4 bed bastide with gîte,
swimming pool and panoramic view.
Sault. Bastide de 4 chambres, gîte, piscine
et vues panoramiques.
REF: 69479DDE84
VAUCLUSE (84) €570,000 FAI
Viens. Magnificent 11 bed village house
with garden and B&B. In the heart of the
medieval city.
Viens. Magnifique maison de village de 4
chambres avec un jardin, des chambres
d'hôtes. Au cœur d'une cité médiévale.
REF: 69637DDE84
LEGGETTFRANCE.COM