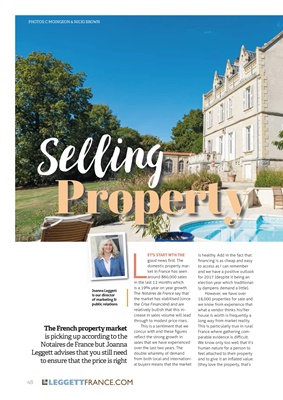 48
PROPERTY GALLERY LEGGETT MAGAZINE
VIENNE €194,400 FAI
3 bed detached house with over 2 acres
of garden. A peaceful hamlet setting and
in-ground swimming pool.
Maison individuelle, 3 chambres, avec
plus de 800m² de jardin. Située dans un
hameau paisible, avec une piscine.
REF: 28694CA86
NORTH VIENNE €214,000 FAI
Renovated 3 bedroom village house with
garden. Village setting just 5 miles from
Loudun.
Maison de village rénovée, 3 chambres,
avec jardin. Le village est à 8 km de Loudun.
REF: 39099JHO86
VIENNE €251,450 FAI
Romantic 5 bedroom house with private
garden and woodland. Stunning views.
Maison romantique de 5 chambres avec
jardin privé et boisé. Vue magnifique.
REF: 41406AF86
LOIRE VALLEY €260,010 FAI
Charming renovated 3 bed cottage with
bright spacious rooms. 1 bed gîte/annexe,
garden, and a wine cellar in the rocks.
Charmante maison rénovée de 3 chambres,
avec des pièces spacieuses et lumineuses.
Un gîte d'1 chambre/annexe, jardin, et une
cave dans la roche.
REF: 41203DL37
VIENNE €299,600 FAI
4 bedroom house with gardens, orchard
and swimming pool and 2 further houses
to renovate.
Maison de 4 chambres avec jardin, verger et
piscine. 2 autres maisons à rénover.
REF: 40001DD86
LOIRE VALLEY €310,000 FAI
5 bed renovated home with swimming
pool, outbuildings and a walled garden.
Maison rénovée de 5 chambres avec
piscine, dépendances et jardin clos.
REF: 41060DL37
VIENNE €466,400 FAI
Detached house, gîte, fabulous garden
with swimming pool. Gîte business
opportunity.
Maison indépendante, gîte, merveilleux
jardin, piscine. Possibilité de développer
une activité de location saisonnière.
REF: 38258DB86
NORTH VIENNE €499,000 FAI
Stunning 6 bed, 5 bath renovated house
with swimming pool. Peaceful hamlet near
Richelieu.
Magnifique maison rénovée avec 6
chambres, 5 SDB, avec piscine. Dans un
hameau paisible près de Richelieu.
REF: 38954JHO86
CHARENTE-MARITIME €227,900 FAI
Charentaise longère beautifully restored
and maintained with large barn and 1bedroomed
studio. 5 acres of land.
Longère charentaise merveilleusement
rénovée et entretenue avec une grande
grange et un studio d'une chambre. Terrain
de 2 ha.
REF: 40778SW17