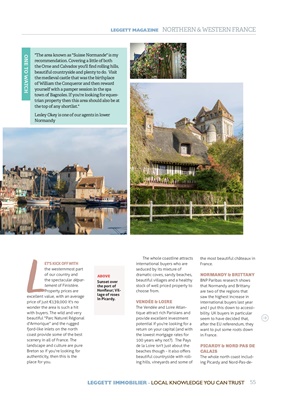 NB : Climate shows average sunshine hours per year supplied by Meteo
France & compared to UK rate of 1,341 pa. Property prices supplied by
Notaires de France and correct at time of going to press.
LEGGETT IMMOBILIER - LOCAL KNOWLEDGE YOU CAN TRUST 55
ONE TO WATCH
"Languedoc-Roussillon stretches
from the majestic Pyrénées mountains in the south to
the Rhône river
and Mediterranean sea to the east. It
boasts 300 days of sunshine, 241 km
of sandy beaches, three mountain
ranges and nine ski resorts. There are
small fishing ports, castles and medieval
cities, as well as the caves of the
Cevennes and the gorges of the Tarn.
No wonder I see Languedoc-Roussillon as the up-and-coming
jewel in
the south of France"
Anna Sirinedes is our area coordinator in this
stunning region. Email: anna@leggett.fr
REGION OF FRANCE
CLIMATE
AV HOUSE €
Rhône-Alpes 2,065 €212,000
PACA 2,724 €290,000
LanguedocRoussillon
2,668 €185,000
Small alpine village
Savoy Alps
of Provence-Alps-Côte d'Azur
(PACA), which covers six
départements. This is a region
of glitzy and glamorous coastal
towns and fishing ports - think
Cannes, St Tropez and Nice.
However, there's much more to
property in PACA than high end
villas. Our portfolio includes
some beautiful houses at reasonable prices,
and our clients
include far more middle class
families than millionaires -
though we cater for them too.
Property prices in PACA
vary enormously as location is
everything. The lowest prices
are to be found furthest away
from the Mediterranean sea in
the Alpes-de-Haute-Provence
(€172,500) and Hautes-Alpes
(€190,000). The middle
ground is held by the Vaucluse
(€215,000) and the Bouches-
du-Rhône (€280,000) while a
premium is paid in the départements
of the Var (€312,000)
and particularly the Alpes-Maritimes (€415,500).
Prices rise on the coast,
particularly as you head east
towards Nice and Monaco. For
those of you on a tight budget,
however, there's good news:
this area is affordable if you're
prepared to forgo a sea view.
Our portfolio includes over 500
properties - with apartments
for well under €100,000 and a
wide choice of super villas and
houses in the €350-550,000
price range.
Of course, it wouldn't be
the south of France if we didn't
also have some prime listings of
villas with sweeping sea views
and apartments in the most
prestigious and envy arousing
locations.
LANGUEDOC-ROUSSILLON
Last, but most definitely not
least, is Languedoc-Roussillon.
My colleague Anna Sirinedes
describes this as the "up and
coming jewel in the south of
France," and I think she's right.
Four of the five départements
within the region enjoy
a Mediterranean coastline
(Pyrénées-Orientales, Aude,
Hérault and Gard), where you
will find that the sea is just
as pleasant and the sun as
warming as the more publicised
neighbours to the east.
You will not find such big
price differentials within this
region, although once again you
will pay a premium if you want
to be on or near the coast.
Properties around the major
cities of Perpignan, Nimes, Carcassonne
and Montpellier also
attract higher prices. It's worthwhile looking at the
surrounding towns
and villages where
you can benefit from country
views aswell as close proximity
to the bars, restaurants and
historic centres.
Pont du Gard
Take a look at our website
and you'll find some of the
finest property on the
Riviera. Don't forget that we
also have discreet listings
that are sold off market and
are never publicised
TIM CLARK
area coordinator in PACA