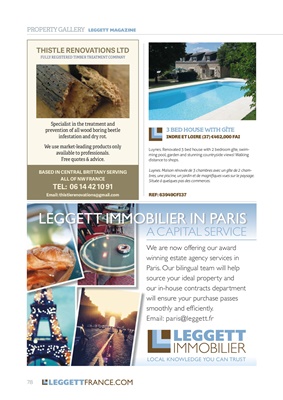 78
NEW DEVELOPMENTS LEGGETT MAGAZINE
VAR FROM €249,000 TO €475,000 FAI
Plan de la Tour: Within easy walking distance of the centre of
a traditional Provençal village set in the Maures mountains yet
only 5 km to the sea, this 12-apartment development is sensitively
designed to blend in with the village streetscape and
gives the appearance of a series of traditional houses.
Plan de la Tour: À distance de marche du centre de ce village
provençal traditionnel, situé dans le massif des Maures. 5 km de
la mer, ce développement de 12 appartements est conçu pour se
fondre dans le paysage du village.
REF: 34677
ALPES-MARITIMES PRICES FROM €265,000 TO €1,050.000 FAI
This brand new development known as Cannes Maria is just a
few minutes walk from Rue d'Antibes. In this new downtown
neighbourhood, just minutes from the Croisette, everything
has been designed to live without using your car.
Ce nouveau complexe appelé Cannes Maria est à seulement
quelques minutes à pied de la rue d'Antibes. Dans ce nouveau
quartier en plein centre-ville, à quelques minutes de la Croisette,
tout a été pensé pour vivre sans utiliser sa voiture.
REF: 41294
CHARENTE-MARITIME PRICES FROM €174,882 TO €516,220 FAI
Le Courlis, La Rochelle. 3 floors residential, 8 apartments.
Conveniently located to the royal gate, 500 metres from the
very centre, 900 metres from the old hall. Quality service, clean
finish.
Le Courlis, La Rochelle. Résidentiel de 3 étages, 8 appartements.
Idéalement situé vers la porte royale, 500 m du centre, 900 m de
la Place des Halles. Prestations de qualité, finitions soignées.
REF: COURLIS
CHARENTE-MARITIME PRICES FROM €125,000 TO €399,500 FAI
'Porte de La Rochelle' is divided into two apartment buildings
in the same urban area in the heart of Tasdon, a booming
sought after area in La Rochelle. These two buildings will
accommodate 34 apartments from T1 to T4.
La résidence 'Porte de la Rochelle' comprend deux immeubles
d'habitation dans un même ensemble urbain au cœur de Tasdon,
un quartier recherché en plein essor à La Rochelle.
Ces deux immeubles vont accueillir 34 appartements collectifs
du T1 au T4.
REF: PORTE
ISÈRE PRICES FROM €240,000 TO €500,000 FAI
This new development in Les Deux Alpes is due for completion
in December 2014. Be one of the first to snap up a great apartment. Chalet Kayla will have
29 apartments in total.
Appartements neufs au milieu des Deux Alpes. 2 chambres et 2
salles de bains avec grande terrasse de 34 m². Il y a une piscine
privée dans la résidence.
REF: 30804
HAUTE-SAVOIE € 1,590,000 FAI
Stunning new build 180m² 4-Bed Chalet. High quality, contemporary
styling, luxury finish. Delivery summer 2015.
Prestigieux chalet situé à quelques minutes à pied du centre de
Chamonix. Un cadre résidentiel et calme. Vue Mont Blanc
REF: 40502