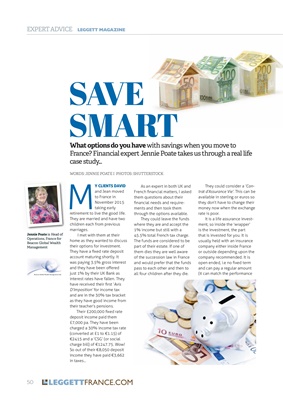 50
PROPERTY GALLERY LEGGETT MAGAZINE
CHARENTE-MARITIME €181,000 FAI
2 bedroomed renovated house within
walking distance of all amenities and
15 minute drive from the beach. Great
for retirement, 'lock up and leave' or
investment.
Maison rénovée à distance de marche de
tous les commerces et services de Saujon.
Idéale pour la retraite, une résidence secondaire ou en tant
qu'investissement.
REF: 42049TM17
CHARENTE-MARITIME €296,500 FAI
A nautical flavoured property, currently
divided into 2 self-contained flats, 3
minutes by bike from beach. Ideal permanent base or holiday house with income
possibilities.
Belle propriété de style nautique, actuellement aménagée en deux appartements, à
trois minutes en vélo de la plage.
REF: 41300TM17
CHARENTE-MARITIME €588,500 FAI
Elegant, 5 bed, 4 bath fully-restored family home with secluded pool. 2 km from
shops and picturesque port of Mortagnesur-Gironde.
25 minutes from the beach.
Maison élégante entièrement rénovée avec
cinq chambres, quatre salles de bains, belle
piscine et toutes commodités - 2 km des
commerces.
REF: 39059TM17
CHARENTE-MARITIME €198,000 FAI
Former barn, now house with garden, in
a village with bar and bakery, 30 minutes
from beaches and surfing spots off the
Royan Côte Sauvage.
Maison de village avec jardin, dans un
bourg avec commerces, à 30 minutes des
plages de Royan et de la Côte Sauvage
REF: 32987CR17
CHARENTE-MARITIME €141,700 FAI
Beautifully restored 2 bed Charentaise
house with gravelled courtyard and old
piggeries transformed into a summer
kitchen and utility room.
Belle maison charentaise avec beaucoup de
charme! La maison a deux chambres et une
cour parfaite pour les soirées d'été.
REF: 33275NM17
CHARENTE-MARITIME €234,330 FAI
Spacious 4 bed south facing house with
1,000m² garden, summer kitchen, patio,
decking and BBQ next to an above-ground
pool. In peaceful village.
Une maison de charme avec 4 chambres
ensoleillées orientées Sud. Un beau jardin
avec une terrasse d'été à côté de la piscine.
REF: 35705NM17
CHARENTE-MARITIME €519,400 FAI
A magnificent 5 bed Charentaise house
each with ensuite. Swimming pool, Moroccan style outdoor space,
large garden and
orchard. Original features. Not far from the
west coast and beaches.
Une maison charentaise de 5 chambres
avec SDB particulières. Piscine, terrasse
marocaine et verger. Proche des plages.
REF: 40275NM17
CHARENTE-MARITIME €221,490 FAI
Modern house in peaceful market town
location. 2 minute walk to bars, shops and
restaurants. Close to the Gironde estuary
and the sandy beaches of the
Charente-Maritime.
Maison individuelle (157m²), avec 4 chambres. Une propriété idéale
pour profiter du
soleil de la Charente-Maritime !
REF: 37810JK17
CHARENTE-MARITIME €752,700 FAI
Superb, no expense spared villa situated
on a quiet lane, only minutes from the city
of Saintes.
Superbe maison contemporaine, située au
calme, à quelques minutes du centre-ville
de Saintes.
REF: 35298MG17