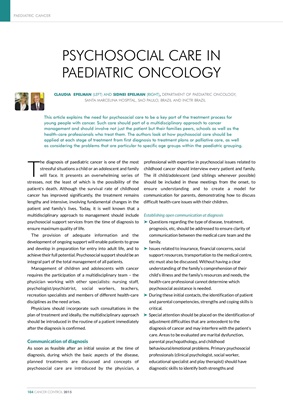 T
he diagnosis of paediatric cancer is one of the most
stressful situations a child or an adolescent and family
will face. It presents an overwhelming series of
stresses, not the least of which is the possibility of the
patient's death. Although the survival rate of childhood
cancer has improved significantly, the treatment remains
lengthy and intensive, involving fundamental changes in the
patient and family's lives. Today, it is well known that a
multidisciplinary approach to management should include
psychosocial support services from the time of diagnosis to
ensure maximum quality of life.
The provision of adequate information and the
development of ongoing support will enable patients to grow
and develop in preparation for entry into adult life, and to
achieve their full potential. Psychosocial support should be an
integral part of the total management of all patients.
Management of children and adolescents with cancer
requires the participation of a multidisciplinary team - the
physician working with other specialists: nursing staff,
psychologist/psychiatrist, social workers, teachers,
recreation specialists and members of different health-care
disciplines as the need arises.
Physicians should incorporate such consultations in the
plan of treatment and ideally, the multidisciplinary approach
should be introduced in the routine of a patient immediately
after the diagnosis is confirmed.
Communication of diagnosis
As soon as feasible after an initial session at the time of
diagnosis, during which the basic aspects of the disease,
planned treatments are discussed and concepts of
psychosocial care are introduced by the physician, a
professional with expertise in psychosocial issues related to
childhood cancer should interview every patient and family.
The ill child/adolescent (and siblings whenever possible)
should be included in these meetings from the onset, to
ensure understanding and to create a model for
communication for parents, demonstrating how to discuss
difficult health-care issues with their children.
Establishing open communication at diagnosis
‰ Questions regarding the type of disease, treatment,
prognosis, etc, should be addressed to ensure clarity of
communication between the medical care team and the
family.
‰ Issues related to insurance, financial concerns, social
support resources, transportation to the medical centre,
etc must also be discussed. Without having a clear
understanding of the family's comprehension of their
child's illness and the family's resources and needs, the
health-care professional cannot determine which
psychosocial assistance is needed.
‰ During these initial contacts, the identification of patient
and parental competencies, strengths and coping skills is
critical.
‰ Special attention should be placed on the identification of
adjustment difficulties that are antecedent to the
diagnosis of cancer and may interfere with the patient's
care. Areas to be evaluated are marital dysfunction,
parental psychopathology, and childhood
behavioural/emotional problems. Primary psychosocial
professionals (clinical psychologist, social worker,
educational specialist and play therapist) should have
diagnostic skills to identify both strengths and
PSYCHOSOCIAL CARE IN
PAEDIATRIC ONCOLOGY
CLAUDIA EPELMAN (LEFT) AND SIDNEI EPELMAN (RIGHT), DEPARTMENT OF PAEDIATRIC ONCOLOGY,
SANTA MARCELINA HOSPITAL, SAO PAULO, BRAZIL AND INCTR BRAZIL
This article explains the need for psychosocial care to be a key part of the treatment process for
young people with cancer. Such care should part of a multidisciplinary approach to cancer
management and should involve not just the patient but their families peers, schools as well as the
health-care professionals who treat them. The authors look at how psychosocial care should be
applied at each stage of treatment from first diagnosis to treatment plans or palliative care, as well
as considering the problems that are particular to specific age groups within the paediatric grouping.
PAEDIATRIC CANCER
104 CANCER CONTROL 2015