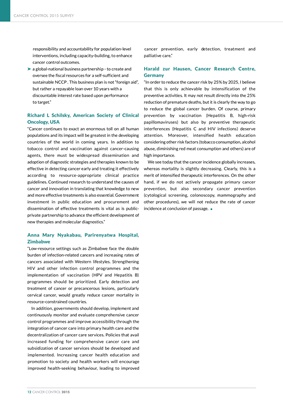 responsibility and accountability for population-level
interventions, including capacity-building, to enhance
cancer control outcomes.
‰ a global-national business partnership - to create and
oversee the fiscal resources for a self-sufficient and
sustainable NCCP . This business plan is not "foreign aid",
but rather a repayable loan over 10 years with a
discountable interest rate based upon performance
to target."
Richard L Schilsky, American Society of Clinical
Oncology, USA
"Cancer continues to exact an enormous toll on all human
populations and its impact will be greatest in the developing
countries of the world in coming years. In addition to
tobacco control and vaccination against cancer-causing
agents, there must be widespread dissemination and
adoption of diagnostic strategies and therapies known to be
effective in detecting cancer early and treating it effectively
according to resource-appropriate clinical practice
guidelines. Continued research to understand the causes of
cancer and innovation in translating that knowledge to new
and more effective treatments is also essential. Government
investment in public education and procurement and
dissemination of effective treatments is vital as is publicprivate
partnership to advance the efficient development of
new therapies and molecular diagnostics."
Anna Mary Nyakabau, Parirenyatwa Hospital,
Zimbabwe
"Low-resource settings such as Zimbabwe face the double
burden of infection-related cancers and increasing rates of
cancers associated with Western lifestyles. Strengthening
HIV and other infection control programmes and the
implementation of vaccination (HPV and Hepatitis B)
programmes should be prioritized. Early detection and
treatment of cancer or precancerous lesions, particularly
cervical cancer, would greatly reduce cancer mortality in
resource-constrained countries.
In addition, governments should develop, implement and
continuously monitor and evaluate comprehensive cancer
control programmes and improve accessibility through the
integration of cancer care into primary health care and the
decentralization of cancer care services. Policies that avail
increased funding for comprehensive cancer care and
subsidization of cancer services should be developed and
implemented. Increasing cancer health education and
promotion to society and health workers will encourage
improved health-seeking behaviour, leading to improved
cancer prevention, early detection, treatment and
palliative care."
Harald zur Hausen, Cancer Research Centre,
Germany
"In order to reduce the cancer risk by 25% by 2025, I believe
that this is only achievable by intensification of the
preventive activities. It may not result directly into the 25%
reduction of premature deaths, but it is clearly the way to go
to reduce the global cancer burden. Of course, primary
prevention by vaccination (Hepatitis B, high-risk
papillomaviruses) but also by preventive therapeutic
interferences (Hepatitis C and HIV infections) deserve
attention. Moreover, intensified health education
considering other risk factors (tobacco consumption, alcohol
abuse, diminishing red meat consumption and others) are of
high importance.
We see today that the cancer incidence globally increases,
whereas mortality is slightly decreasing. Clearly, this is a
merit of intensified therapeutic interferences. On the other
hand, if we do not actively propagate primary cancer
prevention, but also secondary cancer prevention
(cytological screening, colonoscopy, mammography and
other procedures), we will not reduce the rate of cancer
incidence at conclusion of passage. l
CANCER CONTROL 2015 SURVEY
12 CANCER CONTROL 2015