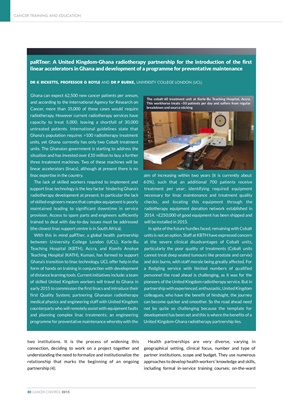 CANCER TRAINING AND EDUCATION
80 CANCER CONTROL 2015
two institutions. It is the process of widening this
connection, deciding to work on a project together and
understanding the need to formalize and institutionalize the
relationship that marks the beginning of an ongoing
partnership (4).
Health partnerships are very diverse, varying in
geographical setting, clinical focus, number and type of
partner institutions, scope and budget. They use numerous
approaches to develop health workers' knowledge and skills,
including formal in-service training courses; on-the-ward
Ghana can expect 62,500 new cancer patients per annum,
and according to the International Agency for Research on
Cancer, more than 35,000 of these cases would require
radiotherapy. However current radiotherapy services have
capacity to treat 5,000, leaving a shortfall of 30,000
untreated patients. International guidelines state that
Ghana's population requires >100 radiotherapy treatment
units, yet Ghana currently has only two Cobalt treatment
units. The Ghanaian government is starting to address the
situation and has invested over £10 million to buy a further
three treatment machines. Two of these machines will be
linear accelerators (linacs), although at present there is no
linac expertise in the country.
The lack of skilled workers required to implement and
support linac technology is the key factor hindering Ghana's
radiotherapy development at present. In particular the lack
of skilled engineers means that complex equipment is poorly
maintained leading to significant downtime in service
provision. Access to spare parts and engineers sufficiently
trained to deal with day-to-day issues must be addressed
(the closest linac support centre is in South Africa).
With this in mind paRTner, a global health partnership
between University College London (UCL), Korle-Bu
Teaching Hospital (KBTH), Accra, and Komfo Anokye
Teaching Hospital (KATH), Kumasi, has formed to support
Ghana's transition to linac technology. UCL offer help in the
form of hands on training in conjunction with development
of distance learning tools. Current initiatives include: a team
of skilled United Kingdom workers will travel to Ghana in
early 2015 to commission the first linacs and introduce their
first Quality System; partnering Ghanaian radiotherapy
medical physics and engineering staff with United Kingdom
counterparts who will remotely assist with equipment faults
and planning complex linac treatments; an engineering
programme for preventative maintenance whereby with the
aim of increasing within two years (it is currently about
60%), such that an additional 700 patients receive
treatment per year; identifying required equipment
necessary for linac maintenance and treatment quality
checks, and locating this equipment through the
radiotherapy equipment donation network established in
2014. >£250,000 of good equipment has been shipped and
will be installed in 2015.
In spite of the future hurdles faced, remaining with Cobalt
units is not an option. Staff at KBTH have expressed concern
at the severe clinical disadvantages of Cobalt units,
particularly the poor quality of treatments (Cobalt units
cannot treat deep seated tumours like prostate and cervix)
and skin burns, with staff morale being greatly affected. For
a fledgling service with limited numbers of qualified
personnel the road ahead is challenging, as it was for the
pioneers of the United Kingdom radiotherapy service. But in
partnership with experienced, enthusiastic, United Kingdom
colleagues, who have the benefit of hindsight, the journey
can become quicker and smoother. So the road ahead need
not be quite so challenging because the template for
development has been set and this is where the benefits of a
United Kingdom-Ghana radiotherapy partnership lies.
paRTner: A United Kingdom-Ghana radiotherapy partnership for the introduction of the first
linear accelerators in Ghana and development of a programme for preventative maintenance
DR K RICKETTS, PROFESSOR G ROYLE AND DR P BURKE, UNIVERSITY COLLEGE LONDON (UCL)
The cobalt-60 treatment unit at Korle-Bu Teaching Hospital, Accra.
This workhorse treats ~50 patients per day and suffers from regular
breakdown and source sticking