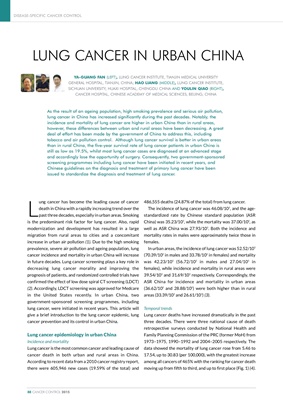 Lung cancer has become the leading cause of cancer
death in China with a rapidly increasing trend over the
past three decades, especially in urban areas. Smoking
is the predominant risk factor for lung cancer. Also, rapid
modernization and development has resulted in a large
migration from rural areas to cities and a concomitant
increase in urban air pollution (1). Due to the high smoking
prevalence, severe air pollution and ageing population, lung
cancer incidence and mortality in urban China will increase
in future decades. Lung cancer screening plays a key role in
decreasing lung cancer morality and improving the
prognosis of patients, and randomized controlled trials have
confirmed the effect of low dose spiral CT screening (LDCT)
(2). Accordingly, LDCT screening was approved for Medcare
in the United States recently. In urban China, two
government-sponsored screening programmes, including
lung cancer, were initiated in recent years. This article will
give a brief introduction to the lung cancer epidemic, lung
cancer prevention and its control in urban China.
Lung cancer epidemiology in urban China
Incidence and mortality
Lung cancer is the most common cancer and leading cause of
cancer death in both urban and rural areas in China.
According to recent data from a 2010 cancer registry report,
there were 605,946 new cases (19.59% of the total) and
486,555 deaths (24.87% of the total) from lung cancer.
The incidence of lung cancer was 46.08/10
5, and the agestandardized
rate by Chinese standard population (ASR
China) was 35.23/10
5
, while the mortality was 37.00/105, as
well as ASR China was 27.93/105. Both the incidence and
mortality rates in males were approximately twice those in
females.
In urban areas, the incidence of lung cancer was 52.52/10
5
(70.39/105 in males and 33.78/105 in females) and mortality
was 42.23/105 (56.72/105 in males and 27.04/105 in
females), while incidence and mortality in rural areas were
39.54/10
5 and 31.69/10
5 respectively. Correspondingly, the
ASR China for incidence and mortality in urban areas
(36.62/105 and 28.88/105) were both higher than in rural
areas (33.39/10
5 and 26.61/105) (3).
Temporal trends
Lung cancer deaths have increased dramatically in the past
three decades. There were three national cause of death
retrospective surveys conducted by National Health and
Family Planning Commission of the PRC (former MoH) from
1973-1975, 1990-1992 and 2004-2005 respectively. The
data showed the mortality of lung cancer rose from 5.46 to
17.54, up to 30.83 (per 100,000), with the greatest increase
among all cancers of 465% with the ranking for cancer death
moving up from fifth to third, and up to first place (Fig. 1) (4).
LUNG CANCER IN URBAN CHINA
YA-GUANG FAN (LEFT), LUNG CANCER INSTITUTE, TIANJIN MEDICAL UNIVERSITY
GENERAL HOSPITAL, TIANJIN, CHINA; HAO LIANG (MIDDLE), LUNG CANCER INSTITUTE,
SICHUAN UNIVERSITY, HUAXI HOSPITAL, CHENGDU CHINA AND YOULIN QIAO (RIGHT),
CANCER HOSPITAL, CHINESE ACADEMY OF MEDICAL SCIENCES, BEIJING, CHINA
As the result of an ageing population, high smoking prevalence and serious air pollution,
lung cancer in China has increased significantly during the past decades. Notably, the
incidence and mortality of lung cancer are higher in urban China than in rural areas,
however, these differences between urban and rural areas have been decreasing. A great
deal of effort has been made by the government of China to address this, including
tobacco and air pollution control. Although lung cancer survival is better in urban areas
than in rural China, the five-year survival rate of lung cancer patients in urban China is
still as low as 19.5%, whilst most lung cancer cases are diagnosed at an advanced stage
and accordingly lose the opportunity of surgery. Consequently, two government-sponsored
screening programmes including lung cancer have been initiated in recent years, and
Chinese guidelines on the diagnosis and treatment of primary lung cancer have been
issued to standardize the diagnosis and treatment of lung cancer.
DISEASE-SPECIFIC CANCER CONTROL
88 CANCER CONTROL 2015