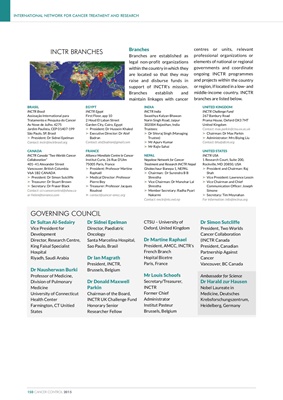 INTERNATIONAL NETWORK FOR CANCER TREATMENT AND RESEARCH
150 CANCER CONTROL 2015
BRASIL
INCTR Brasil
Assioação International para
Tratamento e Pesquisa do Cancer
Av Nove de Julho, 4275
Jardim Paulista, CEP 01407-199
São Paulo, SP, Brasil
‰ President: Dr Sidnei Epelman
Contact: inctr@inctrbrasil.org/inctrbrasil.org" target="_blank" title="Visit inctrbrasil.org">inctrbrasil.org
CANADA
INCTR Canada "Two Worlds Cancer
Collaboration"
401-41 Alexander Street
Vancouver, British Columbia
V6A 1B2 CANADA
‰ President: Dr Simon Sutcliffe
cci-cancercontrol@shaw.cat Brownhelen@torrance.comr Fraser Black
Contact: cci-cancercontrol@shaw.ca
or Helen@torranceatef.badran@gmail.com/p>
INCTR Egypt
First Floor, app 10
2 Houd El Laban Street
Garden City, Cairo, Egypt
‰ President: Dr Hussein Khaled
‰ Executive Director: Dr Atef
Badran
Contact: atef.badran@contact@cancer-amcc.orgarget="_blank" title="Visit gmail.com">gmail.com
FRANCE
Alliance Mondiale Contre le Cancer
Institut Curie, 26 Rue D'Ulm
75005 Paris, France
‰ President: Professor Martine
Raphaël
‰ Medical Director: Professor
Pierre Bey
‰ Treasurer: Professor Jacques
Rouëssé
‰ contact@cancer-amcc.org
INDIA
INCTR India
Swasthya Kalyan Bhawan
nnctr@ntc.net.np, Jaipur
302004 Rajasthan, India
Trustees:
‰ Dr Shivraj Singh (Managing
Trustee)
‰ Mr Apurv Kumar
‰ Mr Rajmax.parkin@ctsu.ox.ac.uk
Nepalese Network for Cancer
Treatment and Research INCTR Nepal
Ghokechabliu@afcm.orgNEPAL
‰ Chairman: Dr Surendra B B
Shrestha
‰ Vice Chairman: Dr Manohar Lal
Shrestha
‰ Member Secretary: Radha Pyari
Nakarmi
Contact: nnctr@ntc.net.np
UNITED KINGDOM
INCTR Challenge Fund
267 Baninfo@inctrus.orgPrama House, Oxford OX3 7HT
United Kingdom
Contact: max.parkin@ctsu.ox.ac.uk
‰ Chairman: Dr Max Parkin
‰ Administrator: Mrs Biying Liu
Contact: bliu@afcm.org
UNITED STATES
INCTR USA
1 Research Court, Suite 200,
Rockville, MD 20850, USA
‰ President and Chairman: Raj
Shah
‰ Vice President: Lawrence Lessin
‰ Vice Chairman and Chief
Communication Officer: Joseph
Simone
‰ Secretary: Tim Moynahan
For information: info@inctrus.org
INCTR BRANCHES Branches
Branches are established as
legal non-profit organizations
within the country in which they
are located so that they may
raise and disburse funds in
support of INCTR's mission.
Branches establish and
maintain linkages with cancer
centres or units, relevant
professional organizations or
elements of national or regional
governments and coordinate
ongoing INCTR programmes
and projects within the country
or region, if located in a low- and
middle-income country. INCTR
branches are listed below.
Dr Sultan Al-Sedairy
Vice President for
Development
Director, Research Centre,
King Faisal Specialist
Hospital
Riyadh, Saudi Arabia
Dr Nausherwan Burki
Professor of Medicine,
Division of Pulmonary
Medicine
University of Connecticut
Health Center
Farmington, CT Unitied
States
Dr Sidnei Epelman
Director, Paediatric
Oncology
Santa Marcelina Hospital,
Sao Paulo, Brasil
Dr Ian Magrath
President, INCTR,
Brussels, Belgium
Dr Donald Maxwell
Parkin
Chairman of the Board,
INCTR UK Challenge Fund
Honorary Senior
Researcher Fellow
CTSU - University of
Oxford, United Kingdom
Dr Martine Raphael
President, AMCC, INCTR's
French Branch
Hopital Bicetre
Paris, France
Mr Louis Schoofs
Secretary/Treasurer,
INCTR
Former Chief
Administrator
Institut Pasteur
Brussels, Belgium
Dr Simon Sutcliffe
President, Two Worlds
Cancer Collaboration
(INCTR Canada
President, Canadian
Partnership Against
Cancer
Vancouver, BC Canada
Ambassador for Science
Dr Harald zur Hausen
Nobel Laureate in
Medicine, Deutsches
Krebsforschungszentrum,
Heidelberg, Germany
GOVERNING COUNCIL