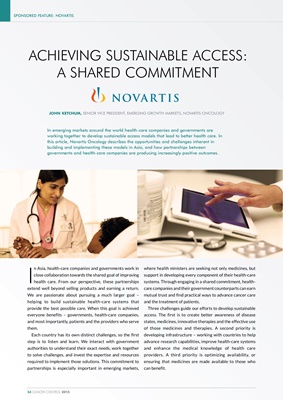 I
n Asia, health-care companies and governments work in
close collaboration towards the shared goal of improving
health care. From our perspective, these partnerships
extend well beyond selling products and earning a return.
We are passionate about pursuing a much larger goal -
helping to build sustainable health-care systems that
provide the best possible care. When this goal is achieved
everyone benefits - governments, health-care companies,
and most importantly, patients and the providers who serve
them.
Each country has its own distinct challenges, so the first
step is to listen and learn. We interact with government
authorities to understand their exact needs, work together
to solve challenges, and invest the expertise and resources
required to implement those solutions. This commitment to
partnerships is especially important in emerging markets,
where health ministers are seeking not only medicines, but
support in developing every component of their health-care
systems. Through engaging in a shared commitment, healthcare
companies and their government counterparts can earn
mutual trust and find practical ways to advance cancer care
and the treatment of patients.
Three challenges guide our efforts to develop sustainable
access. The first is to create better awareness of disease
states, medicines, innovative therapies and the effective use
of those medicines and therapies. A second priority is
developing infrastructure - working with countries to help
advance research capabilities, improve health-care systems
and enhance the medical knowledge of health care
providers. A third priority is optimizing availability, or
ensuring that medicines are made available to those who
can benefit.
ACHIEVING SUSTAINABLE ACCESS:
A SHARED COMMITMENT
JOHN KETCHUM, SENIOR VICE PRESIDENT, EMERGING GROWTH MARKETS, NOVARTIS ONCOLOGY
In emerging markets around the world health-care companies and governments are
working together to develop sustainable access models that lead to better health care. In
this article, Novartis Oncology describes the opportunities and challenges inherent in
building and implementing these models in Asia, and how partnerships between
governments and health-care companies are producing increasingly positive outcomes.
SPONSORED FEATURE: NOVARTIS
54 CANCER CONTROL 2015