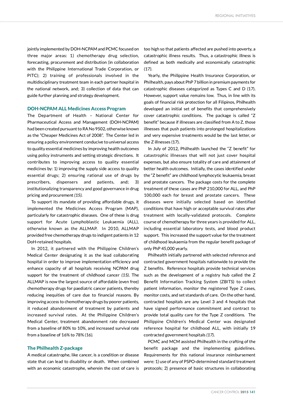 too high so that patients affected are pushed into poverty, a
catastrophic illness results. Thus, a catastrophic illness is
defined as both medically and economically catastrophic
(17).
Yearly, the Philippine Health Insurance Corporation, or
Philhealth, pays about PhP 7 billion in premium payments for
catastrophic diseases categorized as Types C and D (17).
However, support value remains low. Thus, in line with its
goals of financial risk protection for all Filipinos, Philhealth
developed an initial set of benefits that comprehensively
cover catastrophic conditions. The package is called "Z
benefit" because if illnesses are classified from A to Z, those
illnesses that push patients into prolonged hospitalizations
and very expensive treatments would be the last letter, or
the Z illnesses (17).
In July of 2012, Philhealth launched the "Z benefit" for
catastrophic illnesses that will not just cover hospital
expenses, but also ensure totality of care and attainment of
better health outcomes. Initially, the cases identified under
the "Z benefit" are childhood lymphocytic leukaemia, breast
and prostate cancers. The package costs for the complete
treatment of these cases are PhP 210,000 for ALL, and PhP
100,000 each for breast and prostate cancers. These
diseases were initially selected based on identified
conditions that have high or acceptable survival rates after
treatment with locally-validated protocols. Complete
course of chemotherapy for three years is provided for ALL,
including essential laboratory tests, and blood product
support. This increased the support value for the treatment
of childhood leukaemia from the regular benefit package of
only PhP 45,000 yearly.
Philhealth initially partnered with selected reference and
contracted government hospitals nationwide to provide the
Z benefits. Reference hospitals provide technical services
such as the development of a registry hub called the Z
Benefit Information Tracking System (ZBITS) to collect
patient information, monitor the registered Type Z cases,
monitor costs, and set standards of care. On the other hand,
contracted hospitals are any Level 3 and 4 hospitals that
have signed performance commitment and contract to
provide total quality care for the Type Z conditions. The
Philippine Children's Medical Center was designated
reference hospital for childhood ALL, with initially 19
contracted government hospitals (17).
PCMC and MCM assisted Philhealth in the crafting of the
benefit package and the implementing guidelines.
Requirements for this national insurance reimbursement
were: 1) use of any of PSPO-determined standard treatment
protocols; 2) presence of basic structures in collaborating
REGIONAL INITIATIVES
CANCER CONTROL 2015 141
jointly implemented by DOH-NCPAM and PCMC focused on
three major areas: 1) chemotherapy drug selection,
forecasting, procurement and distribution (in collaboration
with the Philippine International Trade Corporation, or
PITC); 2) training of professionals involved in the
multidisciplinary treatment team in each partner hospital in
the national network, and; 3) collection of data that can
guide further planning and strategy development.
DOH-NCPAM ALL Medicines Access Program
The Department of Health - National Center for
Pharmaceutical Access and Management (DOH-NCPAM)
had been created pursuant to RA No 9502, otherwise known
as the "Cheaper Medicines Act of 2008". The Center led in
ensuring a policy environment conducive to universal access
to quality essential medicines by improving health outcomes
using policy instruments and setting strategic directions. It
contributes to improving access to quality essential
medicines by: 1) improving the supply side access to quality
essential drugs; 2) ensuring rational use of drugs by
prescribers, dispensers and patients, and; 3)
institutionalizing transparency and good governance in drug
pricing and procurement (15).
To support its mandate of providing affordable drugs, it
implemented the Medicines Access Program (MAP),
particularly for catastrophic diseases. One of these is drug
support for Acute Lymphoblastic Leukaemia (ALL),
otherwise known as the ALLMAP. In 2010, ALLMAP
provided free chemotherapy drugs to indigent patients in 12
DoH-retained hospitals.
In 2012, it partnered with the Philippine Children's
Medical Center designating it as the lead collaborating
hospital in order to improve implementation efficiency and
enhance capacity of all hospitals receiving NCPAM drug
support for the treatment of childhood cancer (15). The
ALLMAP is now the largest source of affordable (even free)
chemotherapy drugs for paediatric cancer patients, thereby
reducing inequities of care due to financial reasons. By
improving access to chemotherapy drugs by poorer patients,
it reduced abandonment of treatment by patients and
increased survival rates. At the Philippine Children's
Medical Center, treatment abandonment rate decreased
from a baseline of 80% to 10%, and increased survival rate
from a baseline of 16% to 78% (16).
The Philhealth Z-package
A medical catastrophe, like cancer, is a condition or disease
state that can lead to disability or death. When combined
with an economic catastrophe, wherein the cost of care is