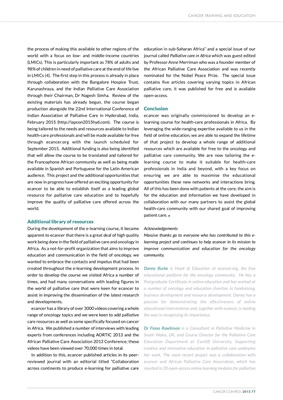 CANCER TRAINING AND EDUCATION
CANCER CONTROL 2015 77
the process of making this available to other regions of the
world with a focus on low- and middle-income countries
(LMICs). This is particularly important as 78% of adults and
98% of children in need of palliative care at the end of life live
in LMICs (4). The first step in this process is already in place
through collaboration with the Bangalore Hospice Trust,
Karunashraya, and the Indian Palliative Care Association
through their Chairman, Dr Nagesh Simha. Review of the
existing materials has already begun, the course began
production alongside the 22nd International Conference of
Indian Association of Palliative Care in Hyderabad, India,
February 2015 (http://iapcon2015hyd.com). The course is
being tailored to the needs and resources available to Indian
health-care professionals and will be made available for free
through ecancer.org with the launch scheduled for
September 2015. Additional funding is also being identified
that will allow the course to be translated and tailored for
the Francophone African community as well as being made
available in Spanish and Portuguese for the Latin American
audience. This project and the additional opportunities that
are now in progress have offered an exciting opportunity for
ecancer to be able to establish itself as a leading global
resource for palliative care education and to hopefully
improve the quality of palliative care offered across the
world.
Additional library of resources
During the development of the e-learning course, it became
apparent to ecancer that there is a great deal of high quality
work being done in the field of palliative care and oncology in
Africa. As a not-for-profit organization that aims to improve
education and communication in the field of oncology, we
wanted to embrace the contacts and impetus that had been
created throughout the e-learning development process. In
order to develop the course we visited Africa a number of
times, and had many conversations with leading figures in
the world of palliative care that were keen for ecancer to
assist in improving the dissemination of the latest research
and developments.
ecancer has a library of over 3000 videos covering a whole
range of oncology topics and we were keen to add palliative
care resources as well as some specifically focused on cancer
in Africa. We published a number of interviews with leading
experts from conferences including AORTIC 2013 and the
African Palliative Care Association 2013 Conference; these
videos have been viewed over 70,000 times in total.
In addition to this, ecancer published articles in its peerreviewed
journal with an editorial titled "Collaboration
across continents to produce e-learning for palliative care
education in sub-Saharan Africa" and a special issue of our
journal called Palliative care in Africa which was guest edited
by Professor Anne Merriman who was a founder member of
the African Palliative Care Association and was recently
nominated for the Nobel Peace Prize. The special issue
contains five articles covering varying topics in African
palliative care, it was published for free and is available
open-access.
Conclusion
ecancer was originally commissioned to develop an elearning
course for health-care professionals in Africa. By
leveraging the wide-ranging expertise available to us in the
field of online education, we are able to expand the lifetime
of that project to develop a whole range of additional
resources which are available for free to the oncology and
palliative care community. We are now tailoring the elearning
course to make it suitable for health-care
professionals in India and beyond, with a key focus on
ensuring we are able to maximise the educational
opportunities these new networks and interactions bring.
All of this has been done with patients at the core; the aim is
for the education and information we have developed in
collaboration with our many partners to assist the global
health-care community with our shared goal of improving
patient care. l
Acknowledgements
Massive thanks go to everyone who has contributed to this elearning
project and continues to help ecancer in its mission to
improve communication and education for the oncology
community.
Danny Burke is Head of Education at ecancer.org, the free
educational platform for the oncology community. He has a
Postgraduate Certificate in online education and has worked at
a number of oncology and education charities in fundraising,
business development and resource development. Danny has a
passion for demonstrating the effectiveness of online
educational interventions and, together with ecancer, is leading
the way in recognizing its importance.
Dr Fiona Rawlinson is a Consultant in Palliative Medicine in
South Wales, UK, and Course Director for the Palliative Care
Education Department at Cardiff University. Supporting
creative and innovative education in palliative care underpins
her work. The most recent project was a collaboration with
ecancer and African Palliative Care Association, which has
resulted in 20 open-access online learning modules for palliative