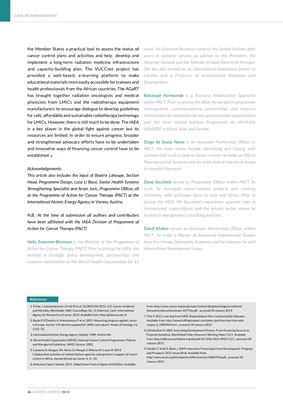 the Member States a practical tool to assess the status of
cancer control plans and activities and help develop and
implement a long-term radiation medicine infrastructure
and capacity-building plan. The VUCCnet project has
provided a web-based, e-learning platform to make
educational materials more easily accessible for trainees and
health professionals from the African countries. The AGaRT
has brought together radiation oncologists and medical
physicists from LMICs and the radiotherapy equipment
manufacturers to encourage dialogue to develop guidelines
for safe, affordable and sustainable radiotherapy technology
for LMICs. However, there is still much to be done. The IAEA
is a key player in the global fight against cancer but its
resources are limited. In order to ensure progress, broader
and strengthened advocacy efforts have to be undertaken
and innovative ways of financing cancer control have to be
established. l
Acknowledgements
This article also includes the input of Beatrix Lahoupe, Section
Head, Programme Design, Luca Li Bassi, Senior Health Systems
Strengthening Specialist and Arsen Juric, Programme Officer, all
at the Programme of Action for Cancer Therapy (PACT) at the
International Atomic Energy Agency in Vienna, Austria.
N.B.: At the time of submission all authors and contributors
have been affiliated with the IAEA Division of Programme of
Action for Cancer Therapy (PACT)
Nelly Enwerem-Bromson is the Director of the Programme of
Action for Cancer Therapy (PACT) Prior to joining the IAEA, she
worked in strategic policy development, partnerships and
resource mobilization at the World Health Organization for 11
years. Ms Enwerem-Bromson came to the United Nations after
years in national service, as adviser to the President, the
Attorney-General and the Minister of State Reform of Portugal.
She has also worked as an international investment banker in
London and a Professor of International Relations and
Development.
Babatope Akinwande is a Resource Mobilization Specialist
within PACT. Prior to joining the IAEA, he worked in programme
management, communications, partnerships and resource
mobilization for international non-governmental organizations
and the Joint United Nations Programme on HIV/AIDS
(UNAIDS) in Africa, Asia, and Europe.
Diogo de Sousa Neves is an Associate Partnership Officer at
PACT. His main duties include identifying and liaising with
partners that work in field of cancer control. He holds an MSc in
Pharmaceutical Sciences and his main field of interest is access
to essential therapies.
Dana Sacchetti served as Programme Officer within PACT. As
such, he managed cancer-related projects and training
initiatives, with particular focus in Asia and Africa. Prior to
joining the IAEA, Mr Sacchetti's experience spanned roles in
international organizations and the private sector, where he
worked in management consulting positions.
Daniil Klubov served as Associate Partnership Officer within
PACT. He holds a Master of Advanced International Studies
from the Vienna Diplomatic Academy and his interests lie with
international development issues.
CANCER MANAGEMENT
46 CANCER CONTROL 2015
References
1. Ferlay J, Soerjomataram I, Ervik M et al. GLOBOCAN 2012 v1.0, Cancer Incidence
and Mortality Worldwide: IARC CancerBase No. 11 [Internet]. Lyon: International
Agency for Research on Cancer, 2013. Available from: http://globocan.iarc.fr.
2. Boyle P, D'Onofrio A, Maisonneuve P et al. 2003. Measuring progress against cancer
in Europe: has the 15% decline targeted for 2000 come about? Annals of Oncology 14,
1312-25.
3. International Atomic Energy Agency Statute. 1989, Article IIIA.
4. World Health Organization (WHO), National Cancer Control Programmes: Policies
and Managerial Guidelines, WHO, Geneva, 2002.
5. Camacho R, Dangou JM, Neves D, Morgan S, Piñeros M, Cayol JP. 2014.
Collaborative activities of United Nations agencies and partners in support of cancer
control in Africa. Journal Africain du Cancer; 6: 3-10.
6. American Cancer Society. 2011. Global Cancer Facts & Figures 2nd Edition. Available
from: http://www.cancer.org/acs/groups/content/@epidemiologysurveilance/
documents/document/acspc-027766.pdf , accessed 30 January 2015.
7. Piot P. 2012. Learning from AIDS: Responding to Non-Communicable Diseases.
Available from: http://www.huffingtonpost.com/peter-piot/learning-from-aidsrespon_b_1900994.html
, accessed 30 January 2015.
8. Girishankar N. 2009. Innovating Development Finance: From Financing Sources to
Financial Solutions. World Bank Policy Research Working Paper 5111. Available
from: http://elibrary.worldbank.org/doi/pdf/10.1596/1813-9450-5111 , accessed 30
January 2015.
9. Sandor E, Scott S, Benn J. 2009. Innovative Financing to Fund Development: Progress
and Prospects. DCD Issues Brief. Available from:
http://www.oecd.org/development/effectiveness/44087344.pdf , accessed 30
January 2015.