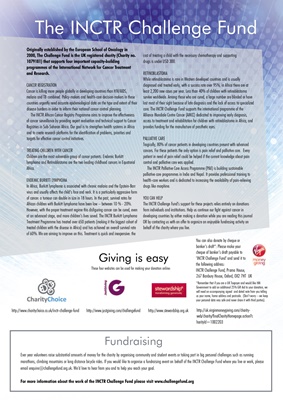 The INCTR Challenge Fund
Giving is easy
These four websites can be used for making your donation online:
Fundraising
Ever year volunteers raise substantial amounts of money for the charity by organising community and student events or taking part in big personal challenges such as running
marathons, climbing mountains or long distance bicycle rides. If you would like to organise a fundraising event on behalf of the INCTR Challenge Fund where you live or work, please
email enquire@challengefund.org.uklengefund.org.uk" target="_blank" title="Visit challengefund.org.uk">challengefund.org.uk. We'd love to hear from you and to help you reach your goal.
For more information about the work of the INCTR Challenge Fund please visit www.challengefund.org
Originally established by the European School of Oncology in
2000, The Challenge Fund is the UK registered charity (Charity no.
1079181) that supports four important capacity-building
programmes of the International Network for Cancer Treatment
and Research.
CANCER REGISTRATION
Cancer is killing more people globally in developing countries than HIV/AIDS,
malaria and TB combined. Policy-makers and health-care decision-makers in these
countries urgently need accurate epidemiological data on the type and extent of their
disease burdens in order to inform their national cancer control planning.
The INCTR African Cancer Registry Programme aims to improve the effectiveness
of cancer surveillance by providing expert evaluation and technical support to Cancer
Registries in Sub-Saharan Africa. Our goal is to strengthen health systems in Africa
and to create research platforms for the identification of problems, priorities and
targets for effective cancer control initiatives.
TREATING CHILDREN WITH CANCER
Children are the most vulnerable group of cancer patients. Endemic Burkitt
lymphoma and Retinoblastoma are the two leading childhood cancers in Equatorial
Africa.
ENDEMIC BURKITT LYMPHOMA
In Africa, Burkitt lymphoma is associated with chronic malaria and the Epstein-Barr
virus and usually affects the child's face and neck. It is a particularly aggressive form
of cancer: a tumour can double in size in 18 hours. In the past, survival rates for
African children with Burkitt lymphoma have been low - between 10 % - 20%.
However, with the proper treatment regime this disfiguring cancer can be cured, even
at an advanced stage, and more children's lives saved. The INCTR Burkitt Lymphoma
Treatment Programme has treated over 650 patients (making it the biggest cohort of
treated children with the disease in Africa) and has achieved an overall survival rate
of 60%. We are aiming to improve on this. Treatment is quick and inexpensive: the
cost of treating a child with the necessary chemotherapy and supporting
drugs is under USD 300.
RETINOBLASTOMA
While retinoblastoma is rare in Western developed countries and is usually
diagnosed and treated early, with a success rate over 95%, in Africa there are at
least 2,200 new cases per year. Less than 40% of children with retinoblastoma
survive worldwide. Among those who are cured, a large number are blinded or have
lost most of their sight because of late diagnosis and the lack of access to specialized
care. The INCTR Challenge Fund supports the international programme of the
Alliance Mondiale Contre Cancer (AMCC) dedicated to improving early diagnosis,
access to treatment and rehabilitation for children with retinoblastoma in Africa, and
provides funding for the manufacture of prosthetic eyes.
PALLIATIVE CARE
Tragically, 80% of cancer patients in developing countries present with advanced
cancers. For these patients the only option is pain relief and palliative care. Every
patient in need of pain relief could be helped if the current knowledge about pain
control and palliative care was applied.
The INCTR Palliative Care Access Programme (PAX) is building sustainable
palliative care programmes in India and Nepal. It provides professional training to
health-care workers and is dedicated to increasing the availability of pain-relieving
drugs like morphine.
YOU CAN HELP
The INCTR Challenge Fund's support for these projects relies entirely on donations
from individuals and institutions. Help us continue our fight against cancer in
developing countries by either making a donation while you are reading this journal
OR by contacting us with an offer to organize an enjoyable fundrasing activity on
behalf of the charity where you live.
http://www.charitychoice.co.uk/inctr-challenge-fund http://www.justgiving.com/challengefund http://www.stewardship.org.uk http://uk.virginmoneygiving.com/charityweb/charity/finalcharityhomepage.action?c
harityId=1002203
You can also donate by cheque or
banker's draft*: Please make your
cheque of banker's draft payable to
'INCTR Challenge Fund' and send it to
the following address:
INCTR Challenge Fund, Prama House,
267 Banbury House, Oxford, OX2 7HT UK
*Remember that if you are a UK Taxpayer and would like HM
Government to add an additional 25% Gift Aid to your donation, we
will need an accompanying signed and dated note from you telling
us your name, home address and postcode. (Don't worry - we keep
your personal data very safe and never share it with third parties).