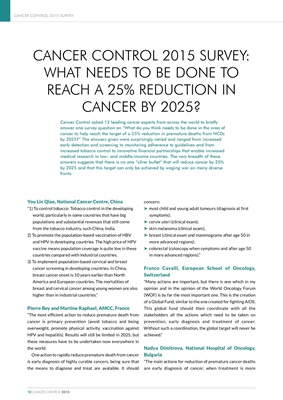 You Lin Qiao, National Cancer Centre, China
"1) To control tobacco: Tobacco control in the developing
world, particularly in some countries that have big
populations and substantial revenues that still come
from the tobacco industry, such China, India.
2) To promote the population-based vaccination of HBV
and HPV in developing countries. The high price of HPV
vaccine means population coverage is quite low in these
countries compared with industrial countries.
3) To implement population-based cervical and breast
cancer screening in developing countries. In China,
breast cancer onset is 10 years earlier than North
America and European countries. The mortalities of
breast and cervical cancer among young women are also
higher than in industrial countries."
Pierre Bey and Martine Raphael, AMCC, France
"The most efficient action to reduce premature death from
cancer is primary prevention (avoid tobacco and being
overweight, promote physical activity, vaccination against
HPV and hepatitis). Results will still be limited in 2025, but
these measures have to be undertaken now everywhere in
the world.
One action to rapidly reduce premature death from cancer
is early diagnosis of highly curable cancers, being sure that
the means to diagnose and treat are avalaible. It should
concern:
‰ most child and young adult tumours (diagnosis at first
symptoms);
‰ cervix uteri (clinical exam);
‰ skin melanoma (clinical exam);
‰ breast (clinical exam and mammograms after age 50 in
more advanced regions);
‰ colorectal (coloscopy when symptoms and after age 50
in more advanced regions)."
Franco Cavalli, European School of Oncology,
Switzerland
"Many actions are important, but there is one which in my
opinion and in the opinion of the World Oncology Forum
(WOF) is by far the most important one. This is the creation
of a Global Fund, similar to the one created for fighting AIDS.
This global fund should then coordinate with all the
stakeholders all the actions which need to be taken on
prevention, early diagnosis and treatment of cancer.
Without such a coordination, the global target will never be
achieved."
Nadya Dimitrova, National Hospital of Oncology,
Bulgaria
"The main actions for reduction of premature cancer deaths
are early diagnosis of cancer, when treatment is more
CANCER CONTROL 2015 SURVEY:
WHAT NEEDS TO BE DONE TO
REACH A 25% REDUCTION IN
CANCER BY 2025?
Cancer Control asked 12 leading cancer experts from across the world to briefly
answer one survey question on "What do you think needs to be done in the area of
cancer to help reach the target of a 25% reduction in premature deaths from NCDs
by 2025?" The answers given were surprisingly varied and ranged from increased
early detection and screening to monitoring adherence to guidelines and from
increased tobacco control to innovative financial partnerships that enable increased
medical research in low- and middle-income countries. The very breadth of these
answers suggests that there is no one "silver bullet" that will reduce cancer by 25%
by 2025 and that this target can only be achieved by waging war on many diverse
fronts.
CANCER CONTROL 2015 SURVEY
10 CANCER CONTROL 2015