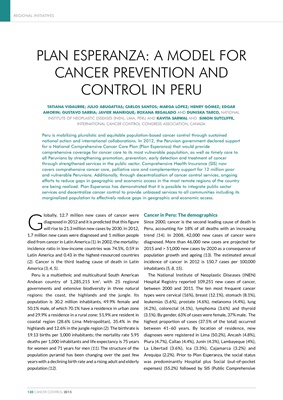 G
lobally, 12.7 million new cases of cancer were
diagnosed in 2012 and it is predicted that this figure
will rise to 21.3 million new cases by 2030. In 2012,
1.7 million new cases were diagnosed and 1 million people
died from cancer in Latin America (1). In 2002, the mortality:
incidence ratio in low-income countries was 74.5%, 0.59 in
Latin America and 0.43 in the highest-resourced countries
(2). Cancer is the third leading cause of death in Latin
America (3, 4, 5).
Peru is a multiethnic and multicultural South American
Andean country of 1,285,215 km2, with 25 regional
governments and extensive biodiversity in three natural
regions: the coast, the highlands and the jungle. Its
population is 30.2 million inhabitants, 49.9% female and
50.1% male, of which 70.1% have a residence in urban zone
and 29.9% a residence in a rural zone; 51.9% are resident in
coastal region (28.6% Lima Metropolitan), 35.4% in the
highlands and 12.6% in the jungle region (2). The birthrate is
19.13 births per 1,000 inhabitants; the mortality rate 5.95
deaths per 1,000 inhabitants and life expectancy is 75 years
for women and 71 years for men (11). The structure of the
population pyramid has been changing over the past few
years with a declining birth rate and a rising adult and elderly
population (12).
Cancer in Peru: The demographics
Since 2000, cancer is the second leading cause of death in
Peru, accounting for 18% of all deaths with an increasing
trend (14). In 2008, 42,000 new cases of cancer were
diagnosed. More than 46,000 new cases are projected for
2015 and > 51,000 new cases by 2020 as a consequence of
population growth and ageing (13). The estimated annual
incidence of cancer in 2012 is 150.7 cases per 100,000
inhabitants (5, 8, 15).
The National Institute of Neoplastic Diseases (INEN)
Hospital Registry reported 109,251 new cases of cancer,
between 2000 and 2011. The ten most frequent cancer
types were cervical (16%), breast (12.1%), stomach (8.1%),
leukemias (5.6%), prostate (4.6%), melanoma (4.4%), lung
(4.2%), colorectal (4.1%), lymphoma (3.6%) and thyroid
(3.1%). By gender, 63% of cases were female, 37% male. The
highest proportion of cases (37.5% of the total) occurred
between 41-60 years. By location of residence, new
diagnoses were registered in Lima (50.2%), Ancash (4.8%),
Piura (4.7%), Callao (4.4%), Junín (4.3%), Lambayeque (4%),
La Libertad (3.6%), Ica (3.3%), Cajamarca (3.2%) and
Arequipa (2.2%). Prior to Plan Esperanza, the social status
was predominantly Hospital plus Social (out-of-pocket
expenses) (55.2%) followed by SIS (Public Comprehensive
PLAN ESPERANZA: A MODEL FOR
CANCER PREVENTION AND
CONTROL IN PERU
TATIANA VIDAURRE; JULIO ABUGATTAS; CARLOS SANTOS; MARGA LÓPEZ; HENRY GÓMEZ; EDGAR
AMORIN; GUSTAVO SARRIA; JAVIER MANRIQUE; ROXANA REGALADO AND DUNISKA TARCO, NATIONAL
INSTITUTE OF NEOPLASTIC DISEASES (INEN), LIMA, PERU AND KAVITA SARWAL AND SIMON SUTCLIFFE,
INTERNATIONAL CANCER CONTROL CONGRESS ASSOCIATION, CANADA
Peru is mobilizing pluralistic and equitable population-based cancer control through sustained
national action and international collaborations. In 2012, the Peruvian government declared support
for a National Comprehensive Cancer Care Plan (Plan Esperanza) that would provide
comprehensive coverage for cancer care to its most vulnerable population, as well as timely care to
all Peruvians by strengthening promotion, prevention, early detection and treatment of cancer
through strengthened services in the public sector. Comprehensive Health Insurance (SIS) now
covers comprehensive cancer care, palliative care and complementary support for 12 million poor
and vulnerable Peruvians. Additionally, through decentralization of cancer control services, ongoing
efforts to reduce gaps in geographic and economic access in the most remote regions of the country
are being realized. Plan Esperanza has demonstrated that it is possible to integrate public sector
services and decentralize cancer control to provide unbiased services to all communities including its
marginalized population to effectively reduce gaps in geographic and economic access.
REGIONAL INITIATIVES
130 CANCER CONTROL 2015