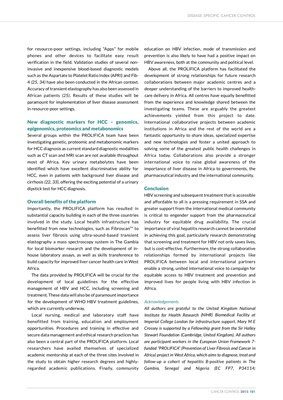 DISEASE-SPECIFIC CANCER CONTROL
CANCER CONTROL 2015 101
for resource-poor settings, including "Apps" for mobile
phones and other devices to facilitate easy result
verification in the field. Validation studies of several noninvasive
and inexpensive blood-based diagnostic models
such as the Aspartate to Platelet Ratio Index (APRI) and Fib4
(25, 34) have also been conducted in the African context.
Accuracy of transient elastography has also been assessed in
African patients (25). Results of these studies will be
paramount for implementation of liver disease assessment
in resource-poor settings.
New diagnostic markers for HCC - genomics,
epigenomics, proteomics and metabonomics
Several groups within the PROLIFICA team have been
investigating genetic, proteomic and metabonomic markers
for HCC diagnosis as current standard diagnostic modalities
such as CT scan and MRI scan are not available throughout
most of Africa. Key urinary metabolytes have been
identified which have excellent discriminative ability for
HCC, even in patients with background liver disease and
cirrhosis (22, 33), offering the exciting potential of a urinary
dipstick test for HCC diagnosis.
Overall benefits of the platform
Importantly, the PROLIFICA platform has resulted in
substantial capacity building in each of the three countries
involved in the study. Local health infrastructure has
benefitted from new technologies, such as FibroscanTM to
assess liver fibrosis using ultra-sound-based transient
elastography a mass spectroscopy system in The Gambia
for local biomarker research and the development of inhouse
laboratory assays, as well as skills transference to
build capacity for improved liver cancer health care in West
Africa.
The data provided by PROLIFICA will be crucial for the
development of local guidelines for the effective
management of HBV and HCC, including screening and
treatment. These data will also be of paramount importance
for the development of WHO HBV treatment guidelines,
which are currently underway.
Local nursing, medical and laboratory staff have
benefitted from training, education and employment
opportunities. Procedures and training in effective and
secure data management and ethical research practices has
also been a central part of the PROLIFICA platform. Local
researchers have availed themselves of specialized
academic mentorship at each of the three sites involved in
the study to obtain higher research degrees and highlyregarded
academic publications. Finally, community
education on HBV infection, mode of transmission and
prevention is also likely to have had a positive impact on
HBV awareness, both at the community and political level.
Above all, the PROLIFICA platform has facilitated the
development of strong relationships for future research
collaborations between major academic centres and a
deeper understanding of the barriers to improved healthcare
delivery in Africa. All centres have equally benefitted
from the experience and knowledge shared between the
investigating teams. These are arguably the greatest
achievements yielded from this project to date.
International collaborative projects between academic
institutions in Africa and the rest of the world are a
fantastic opportunity to share ideas, specialized expertise
and new technologies and foster a united approach to
solving some of the greatest public health challenges in
Africa today. Collaborations also provide a stronger
international voice to raise global awareness of the
importance of liver disease in Africa to governments, the
pharmaceutical industry and the international community.
Conclusion
HBV screening and subsequent treatment that is accessible
and affordable to all is a pressing requirement in SSA and
greater support from the international medical community
is critical to engender support from the pharmaceutical
industry for equitable drug availability. The crucial
importance of viral hepatitis research cannot be overstated
in achieving this goal, particularly research demonstrating
that screening and treatment for HBV not only saves lives,
but is cost-effective. Furthermore, the strong collaborative
relationships formed by international projects like
PROLIFICA between local and international partners
enable a strong, united international voice to campaign for
equitable access to HBV treatment and prevention and
improved lives for people living with HBV infection in
Africa.
Acknowledgements
All authors are grateful to the United Kingdom National
Institute for Health Research (NIHR) Biomedical Facility at
Imperial College London for infrastructure support. Mary M E
Crossey is supported by a Fellowship grant from the Sir Halley
Stewart Foundation (Cambridge, United Kingdom). All authors
are participant workers in the European Union Framework 7funded
"PROLIFICA" (Prevention of Liver Fibrosis and Cancer in
Africa) project in West Africa, which aims to diagnose, treat and
follow-up a cohort of hepatitis B-positive patients in The
Gambia, Senegal and Nigeria (EC FP7, P34114;