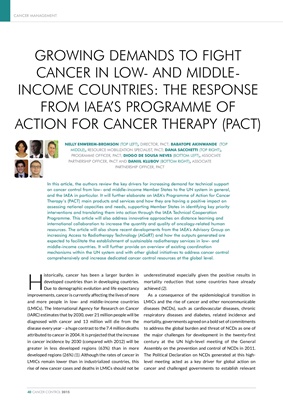 H
istorically, cancer has been a larger burden in
developed countries than in developing countries.
Due to demographic evolution and life expectancy
improvements, cancer is currently affecting the lives of more
and more people in low- and middle-income countries
(LMICs). The International Agency for Research on Cancer
(IARC) estimates that by 2030, over 21 million people will be
diagnosed with cancer and 13 million will die from the
disease every year - a huge contrast to the 7.4 million deaths
attributed to cancer in 2004. It is projected that the increase
in cancer incidence by 2030 (compared with 2012) will be
greater in less developed regions (63%) than in more
developed regions (26%) (1). Although the rates of cancer in
LMICs remain lower than in industrialized countries, this
rise of new cancer cases and deaths in LMICs should not be
underestimated especially given the positive results in
mortality reduction that some countries have already
achieved (2).
As a consequence of the epidemiological transition in
LMICs and the rise of cancer and other noncommunicable
diseases (NCDs), such as cardiovascular diseases, chronic
respiratory diseases and diabetes, related incidence and
mortality, governments agreed on a bold set of commitments
to address the global burden and threat of NCDs as one of
the major challenges for development in the twenty-first
century at the UN high-level meeting of the General
Assembly on the prevention and control of NCDs in 2011.
The Political Declaration on NCDs generated at this highlevel
meeting acted as a key driver for global action on
cancer and challenged governments to establish relevant
GROWING DEMANDS TO FIGHT
CANCER IN LOW- AND MIDDLEINCOME
COUNTRIES: THE RESPONSE
FROM IAEA'S PROGRAMME OF
ACTION FOR CANCER THERAPY (PACT)
NELLY ENWEREM-BROMSON (TOP LEFT), DIRECTOR, PACT; BABATOPE AKINWANDE (TOP
MIDDLE), RESOURCE MOBILIZATION SPECIALIST, PACT; DANA SACCHETTI (TOP RIGHT),
PROGRAMME OFFICER, PACT; DIOGO DE SOUSA NEVES (BOTTOM LEFT), ASSOCIATE
PARTNERSHIP OFFICER, PACT AND DANIIL KLUBOV (BOTTOM RIGHT), ASSOCIATE
PARTNERSHIP OFFICER, PACT
In this article, the authors review the key drivers for increasing demand for technical support
on cancer control from low- and middle-income Member States to the UN system in general,
and the IAEA in particular. It will further elaborate on IAEA's Programme of Action for Cancer
Therapy's (PACT) main products and services and how they are having a positive impact on
assessing national capacities and needs, supporting Member States in identifying key priority
interventions and translating them into action through the IAEA Technical Cooperation
Programme. This article will also address innovative approaches on distance learning and
international collaboration to increase the quantity and quality of oncology-related human
resources. The article will also share recent developments from the IAEA's Advisory Group on
increasing Access to Radiotherapy Technology (AGaRT) and how the outputs generated are
expected to facilitate the establishment of sustainable radiotherapy services in low- and
middle-income countries. It will further provide an overview of existing coordination
mechanisms within the UN system and with other global initiatives to address cancer control
comprehensively and increase dedicated cancer control resources at the global level.
CANCER MANAGEMENT
40 CANCER CONTROL 2015