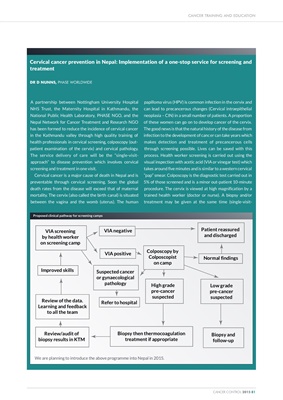 CANCER TRAINING AND EDUCATION
CANCER CONTROL 2015 81
A partnership between Nottingham University Hospital
NHS Trust, the Maternity Hospital in Kathmandu, the
National Public Health Laboratory, PHASE NGO, and the
Nepal Network for Cancer Treatment and Research NGO
has been formed to reduce the incidence of cervical cancer
in the Kathmandu valley through high quality training of
health professionals in cervical screening, colposcopy (outpatient
examination of the cervix) and cervical pathology.
The service delivery of care will be the "single-visitapproach"
to disease prevention which involves cervical
screening and treatment in one visit.
Cervical cancer is a major cause of death in Nepal and is
preventable through cervical screening. Soon the global
death rates from the disease will exceed that of maternal
mortality. The cervix (also called the birth canal) is situated
between the vagina and the womb (uterus). The human
papilloma virus (HPV) is common infection in the cervix and
can lead to precancerous changes (Cervical intraepithelial
neoplasia - CIN) in a small number of patients. A proportion
of these women can go on to develop cancer of the cervix.
The good news is that the natural history of the disease from
infection to the development of cancer can take years which
makes detection and treatment of precancerous cells
through screening possible. Lives can be saved with this
process. Health worker screening is carried out using the
visual inspection with acetic acid (VIA or vinegar test) which
takes around five minutes and is similar to a western cervical
"pap" smear. Colposcopy is the diagnostic test carried out in
5% of those screened and is a minor out-patient 10-minute
procedure. The cervix is viewed at high magnification by a
trained health worker (doctor or nurse). A biopsy and/or
treatment may be given at the same time (single-visitCervical
cancer prevention in Nepal: Implementation of a one-stop service for screening and
treatment
DR D NUNNS, PHASE WORLDWIDE
VIA negative
VIA screening
by health worker
on screening camp
Patient reassured
and discharged
VIA positive
Suspected cancer
or gynaecological
pathology
Normal findings
Colposcopy by
Colposcopist
on camp
High grade
pre-cancer
suspected
Low grade
pre-cancer
suspected
Improved skills
Refer to hospital
Review of the data.
Learning and feedback
to all the team
Review/audit of
biopsy results in KTM
Biopsy then thermocoagulation
treatment if appropriate
Biopsy and
follow-up
Proposed clinical pathway for screening camps
We are planning to introduce the above programme into Nepal in 2015.