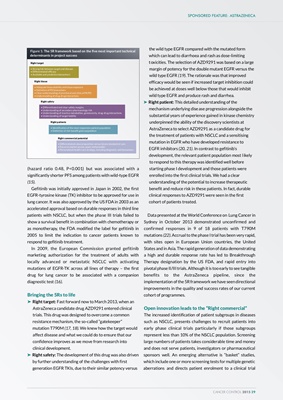 (hazard ratio 0.48, P<0.001) but was associated with a
significantly shorter PFS among patients with wild-type EGFR
(15).
Gefitinib was initially approved in Japan in 2002, the first
EGFR-tyrosine kinase (TK) inhibitor to be approved for use in
lung cancer. It was also approved by the US FDA in 2003 as an
accelerated approval based on durable responses in third line
patients with NSCLC, but when the phase III trials failed to
show a survival benefit in combination with chemotherapy or
as monotherapy, the FDA modified the label for gefitinib in
2005 to limit the indication to cancer patients known to
respond to gefitinib treatment.
In 2009, the European Commission granted gefitinib
marketing authorization for the treatment of adults with
locally advanced or metastatic NSCLC with activating
mutations of EGFR-TK across all lines of therapy - the first
drug for lung cancer to be associated with a companion
diagnostic test (16).
Bringing the 5Rs to life
‰ Right target: Fast forward now to March 2013, when an
AstraZeneca candidate drug AZD9291 entered clinical
trials. This drug was designed to overcome a common
resistance mechanism, the so-called "gatekeeper"
mutation T790M (17, 18). We knew how the target would
affect disease and what we could do to ensure that our
confidence improves as we move from research into
clinical development.
‰ Right safety: The development of this drug was also driven
by further understanding of the challenges with first
generation EGFR TKIs, due to their similar potency versus
the wild type EGFR compared with the mutated form
which can lead to diarrhoea and rash as dose-limiting
toxicities. The selection of AZD9291 was based on a large
margin of potency for the double mutant EGFR versus the
wild type EGFR (19). The rationale was that improved
efficacy would be seen if increased target inhibition could
be achieved at doses well below those that would inhibit
wild type EGFR and produce rash and diarrhea.
‰ Right patient: This detailed understanding of the
mechanism underlying disease progression alongside the
substantial years of experience gained in kinase chemistry
underpinned the ability of the discovery scientists at
AstraZeneca to select AZD9291 as a candidate drug for
the treatment of patients with NSCLC and a sensitising
mutation in EGFR who have developed resistance to
EGFR inhibitors (20, 21). In contrast to gefitinib's
development, the relevant patient population most likely
to respond to this therapy was identified well before
starting phase I development and those patients were
enrolled into the first clinical trials. We had a clear
understanding of the potential to increase therapeutic
benefit and reduce risk in these patients. In fact, durable
clinical responses to AZD9291 were seen in the first
cohort of patients treated.
Data presented at the World Conference on Lung Cancer in
Sydney in October 2013 demonstrated unconfirmed and
confirmed responses in 9 of 18 patients with T790M
mutations (22). Accrual to the phase I trial has been very rapid,
with sites open in European Union countries, the United
States and in Asia. The rapid generation of data demonstrating
a high and durable response rate has led to Breakthrough
Therapy designation by the US FDA, and rapid entry into
pivotal phase II/III trials. Although it is too early to see tangible
benefits to the AstraZeneca pipeline, since the
implementation of the 5R framework we have seen directional
improvements in the quality and success rates of our current
cohort of programmes.
Open innovation leads to the "Right commercial"
The increased identification of patient subgroups in diseases
such as NSCLC, presents challenges to recruit patients into
early phase clinical trials particularly if those subgroups
represent less than 10% of the NSCLC population. Screening
large numbers of patients takes considerable time and money
and does not serve patients, investigators or pharmaceutical
sponsors well. An emerging alternative is "basket" studies,
which include one or more screening tests for multiple genetic
aberrations and directs patient enrolment to a clinical trial
SPONSORED FEATURE: ASTRAZENECA
CANCER CONTROL 2015 29
Right target
• Strong link between target and disease
• Differentiated efficacy
• Available and predictive biomarkers
Right tissue
• Adequate bioavailability and tissue exposure
• Definition of PD biomarkers
• Clear understanding of preclinical and clinical PK/PD
• Understanding of drug-drug interactions
Right safety
• Differentiated and clear safety margins
• Understanding of secondary pharmacology risk
• Understanding of reactive metabolites, genotoxicity, drug-drug interactions
• Understanding of target liability
Right patients
• Identification of the most responsive patient population
• Definition of risk-benefit given population
Right commercial potential
• Differentiated value proposition versus future standard of care
• Focus on market access, payer and provider
• Personalized health-care strategy, including diagnostic and biomarkers
Figure 1: The 5R framework based on the five most important technical
determinants in project success