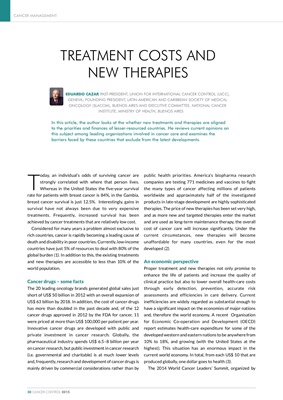 T
oday, an individual's odds of surviving cancer are
strongly correlated with where that person lives.
Whereas in the United States the five-year survival
rate for patients with breast cancer is 84%, in the Gambia,
breast cancer survival is just 12.5%. Interestingly, gains in
survival have not always been due to very expensive
treatments. Frequently, increased survival has been
achieved by cancer treatments that are relatively low cost.
Considered for many years a problem almost exclusive to
rich countries, cancer is rapidly becoming a leading cause of
death and disability in poor countries. Currently, low-income
countries have just 5% of resources to deal with 80% of the
global burden (1). In addition to this, the existing treatments
and new therapies are accessible to less than 10% of the
world population.
Cancer drugs - some facts
The 20 leading oncology brands generated global sales just
short of US$ 50 billion in 2012 with an overall expansion of
US$ 63 billion by 2018. In addition, the cost of cancer drugs
has more than doubled in the past decade and, of the 12
cancer drugs approved in 2012 by the FDA for cancer, 11
were priced at more than US$ 100,000 per patient per year.
Innovative cancer drugs are developed with public and
private investment in cancer research. Globally, the
pharmaceutical industry spends US$ 6.5-8 billion per year
on cancer research, but public investment in cancer research
(i.e. governmental and charitable) is at much lower levels
and, frequently, research and development of cancer drugs is
mainly driven by commercial considerations rather than by
public health priorities. America's biopharma research
companies are testing 771 medicines and vaccines to fight
the many types of cancer affecting millions of patients
worldwide and approximately half of the investigated
products in late-stage development are highly sophisticated
therapies. The price of new therapies has been set very high,
and as more new and targeted therapies enter the market
and are used as long-term maintenance therapy, the overall
cost of cancer care will increase significantly. Under the
current circumstances, new therapies will become
unaffordable for many countries, even for the most
developed (2).
An economic perspective
Proper treatment and new therapies not only promise to
enhance the life of patients and increase the quality of
clinical practice but also to lower overall health-care costs
through early detection, prevention, accurate risk
assessments and efficiencies in care delivery. Current
inefficiencies are widely regarded as substantial enough to
have a significant impact on the economies of major nations
and, therefore the world economy. A recent Organisation
for Economic Co-operation and Development (OECD)
report estimates health-care expenditure for some of the
developed western and eastern nations to be anywhere from
10% to 18%, and growing (with the United States at the
highest). This situation has an enormous impact in the
current world economy. In total, from each US$ 10 that are
produced globally, one dollar goes to health (3).
The 2014 World Cancer Leaders' Summit, organized by
TREATMENT COSTS AND
NEW THERAPIES
EDUARDO CAZAP, PAST-PRESIDENT, UNION FOR INTERNATIONAL CANCER CONTROL (UICC),
GENEVA; FOUNDING PRESIDENT, LATIN-AMERICAN AND CARIBBEAN SOCIETY OF MEDICAL
ONCOLOGY (SLACOM), BUENOS AIRES AND EXECUTIVE COMMITTEE, NATIONAL CANCER
INSTITUTE, MINISTRY OF HEALTH, BUENOS AIRES
In this article, the author looks at the whether new treatments and therapies are aligned
to the priorities and finances of lesser-resourced countries. He reviews current opinions on
this subject among leading organizations involved in cancer care and examines the
barriers faced by these countries that exclude from the latest developments.
CANCER MANAGEMENT
50 CANCER CONTROL 2015