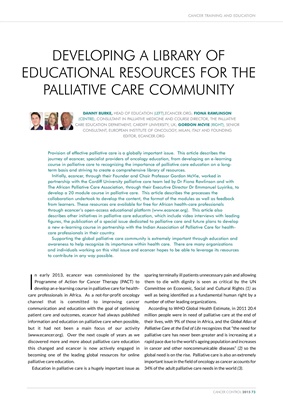 CANCER TRAINING AND EDUCATION
CANCER CONTROL 2015 73
I
n early 2013, ecancer was commissioned by the
Programme of Action for Cancer Therapy (PACT) to
develop an e-learning course in palliative care for healthcare
professionals in Africa. As a not-for-profit oncology
channel that is committed to improving cancer
communication and education with the goal of optimising
patient care and outcomes, ecancer had always published
information and education on palliative care when possible,
but it had not been a main focus of our activity
(www.ecancer.org). Over the next couple of years as we
discovered more and more about palliative care education
this changed and ecancer is now actively engaged in
becoming one of the leading global resources for online
palliative care education.
Education in palliative care is a hugely important issue as
sparing terminally ill patients unnecessary pain and allowing
them to die with dignity is seen as critical by the UN
Committee on Economic, Social and Cultural Rights (1) as
well as being identified as a fundamental human right by a
number of other leading organizations.
According to WHO Global Health Estimate, in 2011 20.4
million people were in need of palliative care at the end of
their lives, with 9% of those in Africa, and the Global Atlas of
Palliative Care at the End of Life recognizes that "the need for
palliative care has never been greater and is increasing at a
rapid pace due to the world's ageing population and increases
in cancer and other noncommunicable diseases" (2) so the
global need is on the rise. Palliative care is also an extremely
important issue in the field of oncology as cancer accounts for
34% of the adult palliative care needs in the world (3).
DEVELOPING A LIBRARY OF
EDUCATIONAL RESOURCES FOR THE
PALLIATIVE CARE COMMUNITY
DANNY BURKE, HEAD OF EDUCATION (LEFT),ecancer.org; FIONA RAWLINSON
(CENTRE), CONSULTANT IN PALLIATIVE MEDICINE AND COURSE DIRECTOR, THE PALLIATIVE
CARE EDUCATION DEPARTMENT, CARDIFF UNIVERSITY, UK; GORDON MCVIE (RIGHT), SENIOR
CONSULTANT, EUROPEAN INSTITUTE OF ONCOLOGY, MILAN, ITALY AND FOUNDING
EDITOR, ecancer.org
Provision of effective palliative care is a globally important issue. This article describes the
journey of ecancer, specialist providers of oncology education, from developing an e-learning
course in palliative care to recognizing the importance of palliative care education on a longterm
basis and striving to create a comprehensive library of resources.
Initially, ecancer, through their Founder and Chair Professor Gordon McVie, worked in
partnership with the Cardiff University palliative care team led by Dr Fiona Rawlinson and with
The African Palliative Care Association, through their Executive Director Dr Emmanuel Luyirika, to
develop a 20 module course in palliative care. This article describes the processes the
collaboration undertook to develop the content, the format of the modules as well as feedback
from learners. These resources are available for free for African health-care professionals
through ecancer's open-access educational platform (www.ecancer.org). This article also
describes other initiatives in palliative care education, which include video interviews with leading
figures, the publication of a special issue dedicated to palliative care and future plans to develop
a new e-learning course in partnership with the Indian Association of Palliative Care for healthcare
professionals in their country.
Supporting the global palliative care community is extremely important through education and
awareness to help recognize its importance within health care. There are many organizations
and individuals working on this vital issue and ecancer hopes to be able to leverage its resources
to contribute in any way possible.