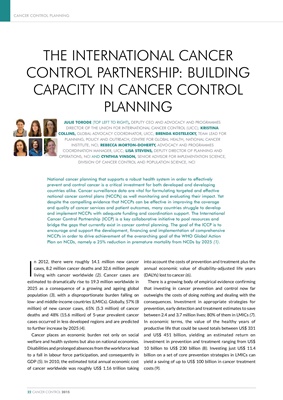 I
n 2012, there were roughly 14.1 million new cancer
cases, 8.2 million cancer deaths and 32.6 million people
living with cancer worldwide (2). Cancer cases are
estimated to dramatically rise to 19.3 million worldwide in
2025 as a consequence of a growing and ageing global
population (3), with a disproportionate burden falling on
low- and middle-income countries (LMICs). Globally, 57% (8
million) of new cancer cases, 65% (5.3 million) of cancer
deaths and 48% (15.6 million) of 5-year prevalent cancer
cases occurred in less developed regions and are predicted
to further increase by 2025 (4).
Cancer places an economic burden not only on social
welfare and health systems but also on national economies.
Disabilities and prolonged absences from the workforce lead
to a fall in labour force participation, and consequently in
GDP (5). In 2010, the estimated total annual economic cost
of cancer worldwide was roughly US$ 1.16 trillion taking
into account the costs of prevention and treatment plus the
annual economic value of disability-adjusted life years
(DALYs) lost to cancer (6).
There is a growing body of empirical evidence confirming
that investing in cancer prevention and control now far
outweighs the costs of doing nothing and dealing with the
consequences. Investment in appropriate strategies for
prevention, early detection and treatment estimates to save
between 2.4 and 3.7 million lives; 80% of them in LMICs (7).
In economic terms, the value of the healthy years of
productive life that could be saved totals between US$ 331
and US$ 451 billion, yielding an estimated return on
investment in prevention and treatment ranging from US$
10 billion to US$ 230 billion (8). Investing just US$ 11.4
billion on a set of core prevention strategies in LMICs can
yield a saving of up to US$ 100 billion in cancer treatment
costs (9).
THE INTERNATIONAL CANCER
CONTROL PARTNERSHIP: BUILDING
CAPACITY IN CANCER CONTROL
PLANNING
JULIE TORODE (TOP LEFT TO RIGHT), DEPUTY CEO AND ADVOCACY AND PROGRAMMES
DIRECTOR OF THE UNION FOR INTERNATIONAL CANCER CONTROL (UICC); KRISTINA
COLLINS, GLOBAL ADVOCACY COORDINATOR, UICC; BRENDA KOSTELECKY, TEAM LEAD FOR
PLANNING, POLICY AND OUTREACH, CENTRE FOR GLOBAL HEALTH, NATIONAL CANCER
INSTITUTE, NCI; REBECCA MORTON-DOHERTY, ADVOCACY AND PROGRAMMES
COORDINATION MANAGER, UICC; LISA STEVENS, DEPUTY DIRECTOR OF PLANNING AND
OPERATIONS, NCI AND CYNTHIA VINSON, SENIOR ADVISOR FOR IMPLEMENTATION SCIENCE,
DIVISION OF CANCER CONTROL AND POPULATION SCIENCE, NCI
National cancer planning that supports a robust health system in order to effectively
prevent and control cancer is a critical investment for both developed and developing
countries alike. Cancer surveillance data are vital for formulating targeted and effective
national cancer control plans (NCCPs) as well monitoring and evaluating their impact. Yet
despite the compelling evidence that NCCPs can be effective in improving the coverage
and quality of cancer services and patient outcomes, many countries struggle to develop
and implement NCCPs with adequate funding and coordination support. The International
Cancer Control Partnership (ICCP) is a key collaborative initiative to pool resources and
bridge the gaps that currently exist in cancer control planning. The goal of the ICCP is to
encourage and support the development, financing and implementation of comprehensive
NCCPs in order to drive achievement of the overarching goal of the WHO Global Action
Plan on NCDs, namely a 25% reduction in premature mortality from NCDs by 2025 (1).
CANCER CONTROL PLANNING
22 CANCER CONTROL 2015