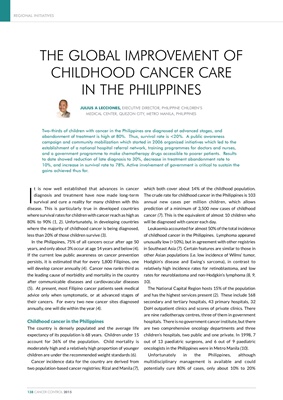 I
t is now well established that advances in cancer
diagnosis and treatment have now made long-term
survival and cure a reality for many children with this
disease. This is particularly true in developed countries
where survival rates for children with cancer reach as high as
80% to 90% (1, 2). Unfortunately, in developing countries
where the majority of childhood cancer is being diagnosed,
less than 20% of those children survive (3).
In the Philippines, 75% of all cancers occur after age 50
years, and only about 3% occur at age 14 years and below (4).
If the current low public awareness on cancer prevention
persists, it is estimated that for every 1,800 Filipinos, one
will develop cancer annually (4). Cancer now ranks third as
the leading cause of morbidity and mortality in the country
after communicable diseases and cardiovascular diseases
(5). At present, most Filipino cancer patients seek medical
advice only when symptomatic, or at advanced stages of
their cancers. For every two new cancer sites diagnosed
annually, one will die within the year (4).
Childhood cancer in the Philippines
The country is densely populated and the average life
expectancy of its population is 68 years. Children under 15
account for 36% of the population. Child mortality is
moderately high and a relatively high proportion of younger
children are under the recommended weight standards (6).
Cancer incidence data for the country are derived from
two population-based cancer registries: Rizal and Manila (7),
which both cover about 14% of the childhood population.
The crude rate for childhood cancer in the Philippines is 103
annual new cases per million children, which allows
prediction of a minimum of 3,500 new cases of childhood
cancer (7). This is the equivalent of almost 10 children who
will be diagnosed with cancer each day.
Leukaemia accounted for almost 50% of the total incidence
of childhood cancer in the Philippines. Lymphoma appeared
unusually low (<10%), but in agreement with other registries
in Southeast Asia (7). Certain features are similar to those in
other Asian populations (i.e. low incidence of Wilms' tumor,
Hodgkin's disease and Ewing's sarcoma), in contrast to
relatively high incidence rates for retinoblastoma, and low
rates for neuroblastoma and non-Hodgkin's lymphoma (8, 9,
10).
The National Capital Region hosts 15% of the population
and has the highest services present (2). These include 168
secondary and tertiary hospitals, 43 primary hospitals, 32
DoH outpatient clinics and scores of private clinics. There
are nine radiotherapy centres, three of them in government
hospitals. There is no government cancer institute, but there
are two comprehensive oncology departments and three
children's hospitals, two public and one private. In 1998, 7
out of 13 paediatric surgeons, and 6 out of 9 paediatric
oncologists in the Philippines were in Metro Manila (10).
Unfortunately in the Philippines, although
multidisciplinary management is available and could
potentially cure 80% of cases, only about 10% to 20%
THE GLOBAL IMPROVEMENT OF
CHILDHOOD CANCER CARE
IN THE PHILIPPINES
JULIUS A LECCIONES, EXECUTIVE DIRECTOR, PHILIPPINE CHILDREN'S
MEDICAL CENTER, QUEZON CITY, METRO MANILA, PHILIPPINES
Two-thirds of children with cancer in the Philippines are diagnosed at advanced stages, and
abandonment of treatment is high at 80%. Thus, survival rate is <20%. A public awareness
campaign and community mobilization which started in 2006 organized initiatives which led to the
establishment of a national hospital referral network, training programmes for doctors and nurses,
and a government programme to make chemotherapy drugs accessible to poorer patients. Results
to date showed reduction of late diagnosis to 30%, decrease in treatment abandonment rate to
10%, and increase in survival rate to 78%. Active involvement of government is critical to sustain the
gains achieved thus far.
REGIONAL INITIATIVES
138 CANCER CONTROL 2015