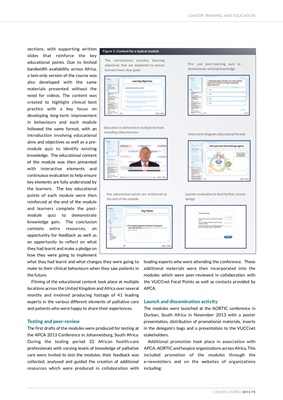 CANCER TRAINING AND EDUCATION
CANCER CONTROL 2015 75
sections, with supporting written
slides that reinforce the key
educational points. Due to limited
bandwidth availability across Africa,
a text-only version of the course was
also developed with the same
materials presented without the
need for videos. The content was
created to highlight clinical best
practice with a key focus on
developing long-term improvement
in behaviours and each module
followed the same format, with an
introduction involving educational
aims and objectives as well as a premodule
quiz to identify existing
knowledge. The educational content
of the module was then presented
with interactive elements and
continuous evaluation to help ensure
key elements are fully understood by
the learners. The key educational
points of each module were then
reinforced at the end of the module
and learners complete the postmodule
quiz to demonstrate
knowledge gain. The conclusion
contains extra resources, an
opportunity for feedback as well as
an opportunity to reflect on what
they had learnt and make a pledge on
how they were going to implement
what they had learnt and what changes they were going to
make to their clinical behaviours when they saw patients in
the future.
Filming of the educational content took place at multiple
locations across the United Kingdom and Africa over several
months and involved producing footage of 41 leading
experts in the various different elements of palliative care
and patients who were happy to share their experiences.
Testing and peer-review
The first drafts of the modules were produced for testing at
the APCA 2013 Conference in Johannesburg, South Africa.
During the testing period 32 African health-care
professionals with varying levels of knowledge of palliative
care were invited to test the modules, their feedback was
collected, analysed and guided the creation of additional
resources which were produced in collaboration with
leading experts who were attending the conference. These
additional materials were then incorporated into the
modules which were peer-reviewed in collaboration with
the VUCCnet Focal Points as well as contacts provided by
APCA.
Launch and dissemination activity
The modules were launched at the AORTIC conference in
Durban, South Africa in November 2013 with a poster
presentation, distribution of promotional materials, inserts
in the delegate's bags and a presentation to the VUCCnet
stakeholders.
Additional promotion took place in association with
APCA, AORTIC and hospice organizations across Africa. This
included promotion of the modules through the
e-newsletters and on the websites of organizations
including:
Figure 1: Content for a typical module
The introduction includes learning
objectives that are explained to ensure
learners have clear goals
Pre- and post-learning quiz to
demonstrate existing knowledge
Education is delivered in multiple formats
including video lectures
Interactive diagram educational format
Key educational points are reinforced at
the end of the module
Learner evaluation to feed further course
design