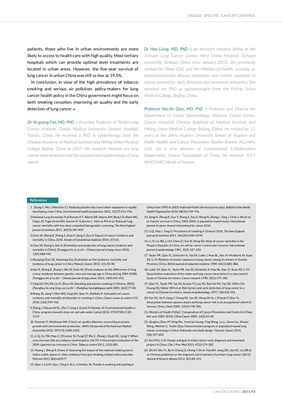 patients, those who live in urban environments are more
likely to access to health care with high quality. Most tertiary
hospitals which can provide optimal level treatments are
located in urban areas. However, the five-year survival of
lung cancer in urban China was still as low as 19.5%.
In conclusion, in view of the high prevalence of tobacco
smoking and serious air pollution, policy-makers for lung
cancer health policy in the China government might focus on
both smoking cessation, improving air quality and the early
detection of lung cancer. l
Dr Ya-guang Fan, MD, PhD is Associate Professor of Tianjin Lung
Cancer Institute, Tianjin Medical University General Hospital,
Tianjin, China. He received a PhD in epidemiology from the
Chinese Academy of Medical Sciences and Peking Union Medical
College Beijing, China in 2007. His research interests are lung
cancer early detection and the occupational epidemiology of lung
cancer.
Dr Hao Liang, MD, PhD is an assistant research fellow at the
Sichuan Lung Cancer Center, West China Hospital, Sichuan
University, Sichuan, China since January 2015. She previously
worked for China CDC and the Ministry of Health, focusing on
noncommunicable disease prevention and control, especially in
cancer prevention, early detection and treatment, and policy. She
received her PhD as epidemiologist from the Peking Union
Medical College, Beijing, China.
Professor You-lin Qiao, MD, PhD is Professor and Director for
Department of Cancer Epidemiology, National Cancer Center,
Cancer Hospital, Chinese Academy of Medical Sciences and
Peking Union Medical College Beijing, China. He trained for 11
years at the Johns Hopkins University School of Hygiene and
Public Health and Cancer Prevention Studies Branch, NCI/NIH,
USA. He is also director of International Collaboration
Department, Cancer Foundation of China. He received 2011
WHO/IARC Medal of Honour.
DISEASE-SPECIFIC CANCER CONTROL
CANCER CONTROL 2015 93
References
1. Zhang Y, Mo J, Weschler CJ: Reducing health risks from indoor exposures in rapidly
developing urban China. Environmental health perspectives 2013, 121(7):751-755.
2.national Lung Screening Trial Research T, Aberle DR, Adams AM, Berg CD, Black WC,
Clapp JD, Fagerstrom RM, Gareen IF, Gatsonis C, Marcus PM et al: Reduced lungcancer
mortality with low-dose computed tomographic screening. The New England
journal of medicine 2011, 365(5):395-409.
3.chen W, Zheng R, Zhang S, Zhao P, Zeng H, Zou X: Report of cancer incidence and
mortality in China, 2010. Annals of translational medicine 2014, 2(7):61.
4.chen W, Zhang S, Zou X: [Estimation and projection of lung cancer incidence and
mortality in China]. Zhongguo fei ai za zhi = Chinese journal of lung cancer 2010,
13(5):488-493.
5.wanqing Chen SZ, Xiaonong Zou: Evaluation on the incidence, mortality and
tendency of lung cancer in China Thoracic Cancer 2010, 1(1):35-40.
6.han R, Zheng R, Zhang S, Wu M, Chen W: [Trend analyses on the differences of lung
cancer incidence between gender, area and average age in China during 1989-2008].
Zhongguo fei ai za zhi = Chinese journal of lung cancer 2013, 16(9):445-451.
7.yang GH, Ma JM, Liu N, Zhou LN: [Smoking and passive smoking in Chinese, 2002].
Zhonghua liu xing bing xue za zhi = Zhonghua liuxingbingxue zazhi 2005, 26(2):77-83.
8.wang JB, Jiang Y, Wei WQ, Yang GH, Qiao YL, Boffetta P: Estimation of cancer
incidence and mortality attributable to smoking in China. Cancer causes & control: CCC
2010, 21(6):959-965.
9.zhang J, Mauzerall DL, Zhu T, Liang S, Ezzati M, Remais JV: Environmental health in
China: progress towards clean air and safe water. Lancet 2010, 375(9720):11101119.
10. Dominici F, Mittleman MA: China's air quality dilemma: reconciling economic
growth with environmental protection. JAMA: the journal of the American Medical
Association 2012, 307(19):2100-2102.
11. Li Q, Hu TW, Mao Z, O'Connor RJ, Fong GT, Wu C, Zhang J, Quah AC, Jiang Y: When
a tax increase fails as a tobacco control policy: the ITC China project evaluation of the
2009 cigarette tax increase in China. Tobacco control 2012, 21(3):381.
12. Huang J, Zheng R, Emery S: Assessing the impact of the national smoking ban in
indoor public places in china: evidence from quit smoking related online searches.
PloS one 2013, 8(6):e65577.
13. Qian J, Cai M, Gao J, Tang S, Xu L, Critchley JA: Trends in smoking and quitting in
China from 1993 to 2003: National Health Service Survey data. Bulletin of the World
Health Organization 2010, 88(10):769-776.
14. Zeng H, Zheng R, Guo Y, Zhang S, Zou X, Wang N, Zhang L, Tang J, Chen J, Wei K et
al: Cancer survival in China, 2003-2005: A population-based study. International
journal of cancer Journal international du cancer 2014.
15. Li Q, Hsia J, Yang G: Prevalence of smoking in China in 2010. The New England
journal of medicine 2011, 364(25):2469-2470.
16. Li JY, Liu BQ, Li GY, Chen ZJ, Sun XI, Rong SD: Atlas of cancer mortality in the
People's Republic of China. An aid for cancer control and research. International
journal of epidemiology 1981, 10(2):127-133.
17. Taylor PR, Qiao YL, Schatzkin A, Yao SX, Lubin J, Mao BL, Rao JY, McAdams M, Xuan
XZ, Li JY: Relation of arsenic exposure to lung cancer among tin miners in Yunnan
Province, China. British journal of industrial medicine 1989, 46(12):881-886.
18. Lubin JH, Qiao YL, Taylor PR, Yao SX, Schatzkin A, Mao BL, Rao JY, Xuan XZ, Li JY:
Quantitative evaluation of the radon and lung cancer association in a case control
study of Chinese tin miners. Cancer research 1990, 50(1):174-180.
19. Qiao YL, Taylor PR, Yao SX, Erozan YS, Luo XC, Barrett MJ, Yan QY, Giffen CA,
Huang SQ, Maher MM et al: Risk factors and early detection of lung cancer in a
cohort of Chinese tin miners. Annals of epidemiology 1997, 7(8):533-541.
20. Fan YG, Hu P, Jiang Y, Chang RS, Yao SX, Wang W, He J, Prorok P, Qiao YL:
Association between sputum atypia and lung cancer risk in an occupational cohort in
Yunnan, China. Chest 2009, 135(3):778-785.
21. Ministry of Health PsRoC: Compendium of Cancer Prevention and Control in China
(for year 2004-2010). China Cancer 2004, 14(2):65-68.
22. Qinghua Zhou YF, Ning Wu, Yunchao Huang, Ying Wang, Lu Li, Jiewei Liu, Xinyun
Wang, Weimin Li, Youlin Qiao: Demonstration program of population-based lung
cancer screening in China: Rationale and study design. Thoracic Cancer 2014,
5(2):197-203.
23. Dai M SJ, Li N: Design and goal of urban cancer early diagnosis and treatment
project in China. Chin J Prev Med 2013, 47(2):179-182.
24. Zhi XY, Wu YL, Bu H, Cheng G, Cheng Y, Du X, Han BH, Jiang GN, Jiao SC, Liu DR et
al: Chinese guidelines on the diagnosis and treatment of primary lung cancer (2011).
Journal of thoracic disease 2012, 4(1):88-101.