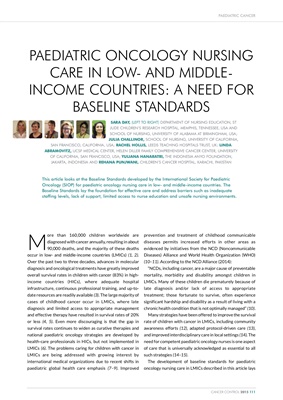 PAEDIATRIC CANCER
CANCER CONTROL 2015 111
M
ore than 160,000 children worldwide are
diagnosed with cancer annually, resulting in about
90,000 deaths, and the majority of these deaths
occur in low- and middle-income countries (LMICs) (1, 2).
Over the past two to three decades, advances in molecular
diagnosis and oncological treatments have greatly improved
overall survival rates in children with cancer (83%) in highincome
countries (HICs), where adequate hospital
infrastructure, continuous professional training, and up-todate
resources are readily available (3). The large majority of
cases of childhood cancer occur in LMICs, where late
diagnosis and limited access to appropriate management
and effective therapy have resulted in survival rates of 20%
or less (4, 5). Even more discouraging is that the gap in
survival rates continues to widen as curative therapies and
national paediatric oncology strategies are developed by
health-care professionals in HICs, but not implemented in
LMICs (6). The problems caring for children with cancer in
LMICs are being addressed with growing interest by
international medical organizations due to recent shifts in
paediatric global health care emphasis (7-9). Improved
prevention and treatment of childhood communicable
diseases permits increased efforts in other areas as
evidenced by initiatives from the NCD (Noncommunicable
Diseases) Alliance and World Health Organization (WHO)
(10-11). According to the NCD Alliance (2014):
"NCDs, including cancer, are a major cause of preventable
mortality, morbidity and disability amongst children in
LMICs. Many of these children die prematurely because of
late diagnosis and/or lack of access to appropriate
treatment; those fortunate to survive, often experience
significant hardship and disability as a result of living with a
chronic health condition that is not optimally managed" (10).
Many strategies have been offered to improve the survival
rate of children with cancer in LMICs, including community
awareness efforts (12), adapted protocol-driven care (13),
and improved interdisciplinary care in local settings (14). The
need for competent paediatric oncology nurses is one aspect
of care that is universally acknowledged as essential to all
such strategies (14-15).
The development of baseline standards for paediatric
oncology nursing care in LMICs described in this article lays
PAEDIATRIC ONCOLOGY NURSING
CARE IN LOW- AND MIDDLEINCOME
COUNTRIES: A NEED FOR
BASELINE STANDARDS
SARA DAY, (LEFT TO RIGHT) DEPARTMENT OF NURSING EDUCATION, ST
JUDE CHILDREN'S RESEARCH HOSPITAL, MEMPHIS, TENNESSEE, USA AND
SCHOOL OF NURSING, UNIVERSITY OF ALABAMA AT BIRMINGHAM, USA;
JULIA CHALLINOR, SCHOOL OF NURSING, UNIVERSITY OF CALIFORNIA,
SAN FRANCISCO, CALIFORNIA, USA; RACHEL HOLLIS, LEEDS TEACHING HOSPITALS TRUST, UK; LINDA
ABRAMOVITZ, UCSF MEDICAL CENTER, HELEN DILLER FAMILY COMPREHENSIVE CANCER CENTER, UNIVERSITY
OF CALIFORNIA, SAN FRANCISCO, USA; YULIANA HANARATRI, THE INDONESIA ANYO FOUNDATION,
JAKARTA, INDONESIA AND REHANA PUNJWANI, CHILDREN'S CANCER HOSPITAL, KARACHI, PAKISTAN
This article looks at the Baseline Standards developed by the International Society for Paediatric
Oncology (SIOP) for paediatric oncology nursing care in low- and middle-income countries. The
Baseline Standards lay the foundation for effective care and address barriers such as inadequate
staffing levels, lack of support, limited access to nurse education and unsafe nursing environments.