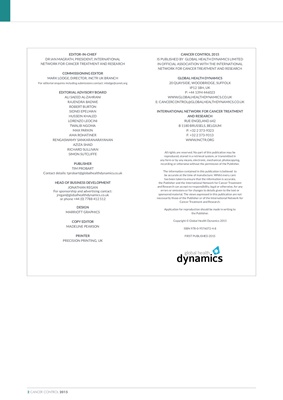 2 CANCER CONTROL 2015 EDITOR-IN-CHIEF
DR IAN MAGRATH, PRESIDENT, INTERNATIONAL
NETWORK FOR CANCER TREATMENT AND RESEARCH
COMMISSIONING EDITOR
MARK LODGE, DIRECTOR, INCTR UK BRANCH
For editorial enquires including submissions contact: mlodge@canet.orghttp://canet.org" target="_blank" title="Visit canet.org">canet.org
EDITORIAL ADVISORY BOARD
ALI SAEED AL-ZAHRANI
RAJENDRA BADWE
ROBERT BURTON
SIDNEI EPELMAN
HUSSEIN KHALED
LORENZO LEOCINI
TWALIB NGOMA
MAX PARKIN
AMA ROHATINER
RENGASWAMY SANKARANARAYANAN
AZIZA SHAD
RICHARD SULLIVAN
SItprobart@globalhealthdynamics.co.uk>TIM PROBART
Contact details: tprobart@jregan@globalhealthdynamics.co.ukk">globalhealthdynamics.co.uk
HEAD OF BUSINESS DEVELOPMENT
JONATHAN REGAN
For sponsorship and advertising contact:
jregan@globalhealthdynamics.co.uk
or phone +44 (0) 7788 412 512
DESIGN
MARRIOTT GRAPHICS
COPY EDITOR
MADELINE PEARSON
PRINTER
PRECISION PRINTING, UK
CANCER CONTROL 2015
IS PUBLISHED BY GLOBAL HEcancercontrol@globalhealthdynamics.co.ukASSOCIATION WITH THE INTERNATIONAL
NETWORK FOR CANCER TREATMENT AND RESEARCH
GLOBAL HEALTH DYNAMICS
20 QUAYSIDE, WOODBRIDGE, SUFFOLK
IP12 1BH, UK
P: +44 1394 446023
www.globalhealthdynamics.co.uk
E: CANCERCONTROL@globalhealthdynamics.co.uk
INTERNATIONAL NETWORK FOR CANCER TREATMENT
AND RESEARCH
RUE ENGELAND 642
B 1180 BRUSSELS, BELGIUM
P: +32 2 373-9323
F: +32 2 373-9313
All rights are reserved. No part of this publication may be
reproduced, stored in a retrieval system, or transmitted in
any form or by any means, electronic, mechanical, photocopying,
recording or otherwise without the permission of the Publisher.
The information contained in this publication is believed to
be accurate at the time of manufacture. Whilst every care
has been taken to ensure that the information is accurate,
the Publisher and the International Network for Cancer Treatment
and Research can accept no responsibility, legal or otherwise, for any
errors or omissions or for changes to details given to the text or
sponsored material. The views expressed in this publication are not
necessarily those of the Publisher or of the International Network for
Cancer Treatment and Research.
Application for reproduction should be made in writing to
the Publisher.
Copyright © Global Health Dynamics 2015
ISBN 978-0-9576072-4-8
FIRST PUBLISHED 2015
global health
dynamics