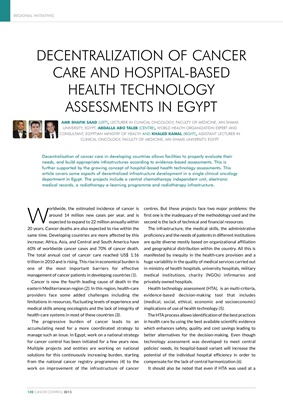 W
orldwide, the estimated incidence of cancer is
around 14 million new cases per year, and is
expected to expand to 22 million annually within
20 years. Cancer deaths are also expected to rise within the
same time. Developing countries are more affected by this
increase; Africa, Asia, and Central and South America have
60% of worldwide cancer cases and 70% of cancer death.
The total annual cost of cancer care reached US$ 1.16
trillion in 2010 and is rising. This rise in economical burden is
one of the most important barriers for effective
management of cancer patients in developing countries (1).
Cancer is now the fourth leading cause of death in the
eastern Mediterranean region (2). In this region, health-care
providers face some added challenges including the
limitations in resources, fluctuating levels of experience and
medical skills among oncologists and the lack of integrity of
health-care systems in most of these countries (3).
The progressive burden of cancer leads to an
accumulating need for a more coordinated strategy to
manage such an issue. In Egypt, work on a national strategy
for cancer control has been initiated for a few years now.
Multiple projects and entities are working on national
solutions for this continuously increasing burden, starting
from the national cancer registry programmes (4) to the
work on improvement of the infrastructure of cancer
centres. But these projects face two major problems: the
first one is the inadequacy of the methodology used and the
second is the lack of technical and financial resources.
The infrastructure, the medical skills, the administrative
proficiency and the needs of patients in different institutions
are quite diverse mostly based on organizational affiliation
and geographical distribution within the country. All this is
manifested by inequity in the health-care provision and a
huge variability in the quality of medical services carried out
in ministry of health hospitals, university hospitals, military
medical institutions, charity (NGOs) infirmaries and
privately owned hospitals.
Health technology assessment (HTA), is an multi-criteria,
evidence-based decision-making tool that includes
(medical, social, ethical, economic and socioeconomic)
implications of use of health technology (5).
The HTA process allows identification of the best practices
in health care by using the best available scientific evidence
which enhances safety, quality and cost savings leading to
better alternatives for the decision-making. Even though
technology assessment was developed to meet central
policies' needs, its hospital-based variant will increase the
potential of the individual hospital efficiency in order to
compensate for the lack of central harmonization (6).
It should also be noted that even if HTA was used at a
DECENTRALIZATION OF CANCER
CARE AND HOSPITAL-BASED
HEALTH TECHNOLOGY
ASSESSMENTS IN EGYPT
AMR SHAFIK SAAD (LEFT), LECTURER IN CLINICAL ONCOLOGY, FACULTY OF MEDICINE, AIN SHAMS
UNIVERSITY, EGYPT; ABDALLA ABO TALEB (CENTRE), WORLD HEALTH ORGANIZATION EXPERT AND
CONSULTANT, EGYPTIAN MINISTRY OF HEALTH AND KHALED KAMAL (RIGHT), ASSISTANT LECTURER IN
CLINICAL ONCOLOGY, FACULTY OF MEDICINE, AIN SHAMS UNIVERSITY, EGYPT
Decentralization of cancer care in developing countries allows facilities to properly evaluate their
needs, and build appropriate infrastructures according to evidence-based assessments. This is
further supported by the growing concept of hospital-based health technology assessments. This
article covers some aspects of decentralized infrastructure development in a single clinical oncology
department in Egypt. The projects include a central chemotherapy independent unit, electronic
medical records, a radiotherapy e-learning programme and radiotherapy infrastructure.
REGIONAL INITIATIVES
120 CANCER CONTROL 2015