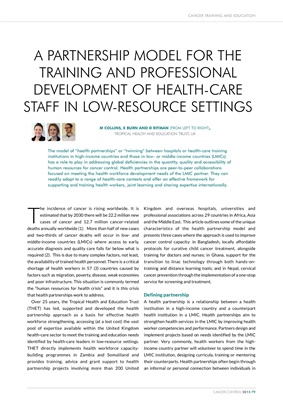 CANCER TRAINING AND EDUCATION
CANCER CONTROL 2015 79
T
he incidence of cancer is rising worldwide. It is
estimated that by 2030 there will be 22.2 million new
cases of cancer and 12.7 million cancer-related
deaths annually worldwide (1). More than half of new cases
and two-thirds of cancer deaths will occur in low- and
middle-income countries (LMICs) where access to early,
accurate diagnosis and quality care falls far below what is
required (2). This is due to many complex factors, not least,
the availability of trained health personnel. There is a critical
shortage of health workers in 57 (3) countries caused by
factors such as migration, poverty, disease, weak economies
and poor infrastructure. This situation is commonly termed
the "human resources for health crisis" and it is this crisis
that health partnerships work to address.
Over 25 years, the Tropical Health and Education Trust
(THET) has led, supported and developed the health
partnership approach as a basis for effective health
workforce strengthening, accessing (at a lost cost) the vast
pool of expertise available within the United Kingdom
health-care sector to meet the training and education needs
identified by health-care leaders in low-resource settings.
THET directly implements health workforce capacitybuilding
programmes in Zambia and Somaliland and
provides training, advice and grant support to health
partnership projects involving more than 200 United
Kingdom and overseas hospitals, universities and
professional associations across 29 countries in Africa, Asia
and the Middle East. This article outlines some of the unique
characteristics of the health partnership model and
presents three cases where the approach is used to improve
cancer control capacity: in Bangladesh, locally affordable
protocols for curative child cancer treatment, alongside
training for doctors and nurses; in Ghana, support for the
transition to linac technology through both hands-ontraining
and distance learning tools; and in Nepal, cervical
cancer prevention through the implementation of a one-stop
service for screening and treatment.
Defining partnership
A health partnership is a relationship between a health
institution in a high-income country and a counterpart
health institution in a LMIC. Health partnerships aim to
strengthen health services in the LMIC by improving health
worker competencies and performance. Partners design and
implement projects based on needs identified by the LMIC
partner. Very commonly, health workers from the highincome
country partner will volunteer to spend time in the
LMIC institution, designing curricula, training or mentoring
their counterparts. Health partnerships often begin through
an informal or personal connection between individuals in
A PARTNERSHIP MODEL FOR THE
TRAINING AND PROFESSIONAL
DEVELOPMENT OF HEALTH-CARE
STAFF IN LOW-RESOURCE SETTINGS
M COLLINS, E BURN AND D RITMAN (FROM LEFT TO RIGHT),
TROPICAL HEALTH AND EDUCATION TRUST, UK
The model of "health partnerships" or "twinning" between hospitals or health-care training
institutions in high-income countries and those in low- or middle-income countries (LMICs)
has a role to play in addressing global deficiencies in the quantity, quality and accessibility of
human resources for cancer control. Health partnerships are peer-to-peer collaborations
focused on meeting the health workforce development needs of the LMIC partner. They can
readily adapt to a range of health-care contexts and offer an effective framework for
supporting and training health workers, joint learning and sharing expertise internationally.