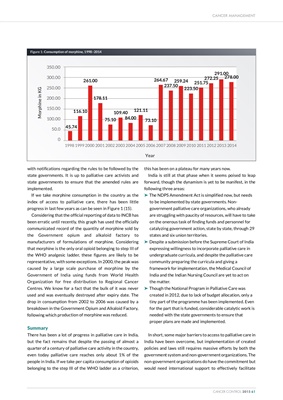 CANCER MANAGEMENT
CANCER CONTROL 2015 61
with notifications regarding the rules to be followed by the
state governments. It is up to palliative care activists and
state governments to ensure that the amended rules are
implemented.
If we take morphine consumption in the country as the
index of access to palliative care, there has been little
progress in last few years as can be seen in Figure 1 (15).
Considering that the official reporting of data to INCB has
been erratic until recently, this graph has used the officially
communicated record of the quantity of morphine sold by
the Government opium and alkaloid factory to
manufacturers of formulations of morphine. Considering
that morphine is the only oral opioid belonging to step III of
the WHO analgesic ladder, these figures are likely to be
representative, with some exceptions. In 2000, the peak was
caused by a large scale purchase of morphine by the
Government of India using funds from World Health
Organization for free distribution to Regional Cancer
Centres. We know for a fact that the bulk of it was never
used and was eventually destroyed after expiry date. The
drop in consumption from 2002 to 2006 was caused by a
breakdown in the Government Opium and Alkaloid Factory,
following which production of morphine was reduced.
Summary
There has been a lot of progress in palliative care in India,
but the fact remains that despite the passing of almost a
quarter of a century of palliative care activity in the country,
even today palliative care reaches only about 1% of the
people in India. If we take per capita consumption of opioids
belonging to the step III of the WHO ladder as a criterion,
this has been on a plateau for many years now.
India is still at that phase when it seems poised to leap
forward, though the dynamism is yet to be manifest, in the
following three areas:
‰ The NDPS Amendment Act is simplified now, but needs
to be implemented by state governments. Nongovernment
palliative care organizations, who already
are struggling with paucity of resources, will have to take
on the onerous task of finding funds and personnel for
catalyzing government action, state by state, through 29
states and six union territories.
‰ Despite a submission before the Supreme Court of India
expressing willingness to incorporate palliative care in
undergraduate curricula, and despite the palliative care
community preparing the curricula and giving a
framework for implementation, the Medical Council of
India and the Indian Nursing Council are yet to act on
the matter.
‰ Though the National Program in Palliative Care was
created in 2012, due to lack of budget allocation, only a
tiny part of the programme has been implemented. Even
for the part that is funded, considerable catalytic work is
needed with the state governments to ensure that
proper plans are made and implemented.
In short, some major barriers to access to palliative care in
India have been overcome, but implementation of created
policies and laws still requires massive efforts by both the
government system and non-government organizations. The
non-government organizations do have the commitment but
would need international support to effectively facilitate
45.74
116.10
261.00
178.11
75.10
109.40
84.00
121.11
73.10
264.67
237.50
259.24
223.50
251.75
272.25
291.00
278.00
1998 1999 2000 2001 2002 2003 2004 2005 2006 2007 2008 2009 2010 2011 2012 2013 2014
Morphine in KG
350.00
300.00
250.00
200.00
150.00
100.00
50.0
0
Year
Figure 1: Consumption of morphine, 1998-2014