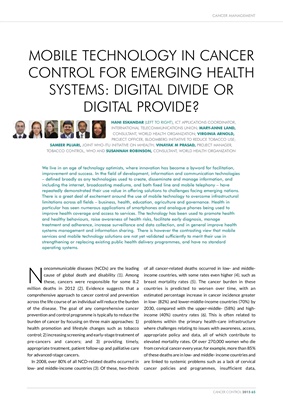 CANCER MANAGEMENT
CANCER CONTROL 2015 65
N
oncommunicable diseases (NCDs) are the leading
cause of global death and disability (1). Among
these, cancers were responsible for some 8.2
million deaths in 2012 (2). Evidence suggests that a
comprehensive approach to cancer control and prevention
across the life course of an individual will reduce the burden
of the disease. The goal of any comprehensive cancer
prevention and control programme is typically to reduce the
burden of cancer by focusing on three main approaches: 1)
health promotion and lifestyle changes such as tobacco
control; 2) increasing screening and early-stage treatment of
pre-cancers and cancers; and 3) providing timely,
appropriate treatment, patient follow-up and palliative care
for advanced-stage cancers.
In 2008, over 80% of all NCD-related deaths occurred in
low- and middle-income countries (3). Of these, two-thirds
of all cancer-related deaths occurred in low- and middleincome
countries, with some rates even higher (4), such as
breast mortality rates (5). The cancer burden in these
countries is predicted to worsen over time, with an
estimated percentage increase in cancer incidence greater
in low- (82%) and lower-middle-income countries (70%) by
2030, compared with the upper-middle- (58%) and highincome
(40%) country rates (6). This is often related to
problems within the primary health-care infrastructure
where challenges relating to issues with awareness, access,
appropriate policy and data, all of which contribute to
elevated mortality rates. Of over 270,000 women who die
from cervical cancer every year, for example, more than 85%
of these deaths are in low- and middle- income countries and
are linked to systemic problems such as a lack of cervical
cancer policies and programmes, insufficient data,
MOBILE TECHNOLOGY IN CANCER
CONTROL FOR EMERGING HEALTH
SYSTEMS: DIGITAL DIVIDE OR
DIGITAL PROVIDE?
HANI ESKANDAR (LEFT TO RIGHT), ICT APPLICATIONS COORDINATOR,
INTERNATIONAL TELECOMMUNICATIONS UNION; MARY-ANNE LAND,
CONSULTANT, WORLD HEALTH ORGANIZATION; VIRGINIA ARNOLD,
PROJECT OFFICER, BLOOMBERG INITIATIVE TO REDUCE TOBACCO USE;
SAMEER PUJARI, JOINT WHO-ITU INITIATIVE ON MHEALTH; VINAYAK M PRASAD, PROJECT MANAGER,
TOBACCO CONTROL, WHO AND SUSANNAH ROBINSON, CONSULTANT, WORLD HEALTH ORGANIZATION
We live in an age of technology optimists, where innovation has become a byword for facilitation,
improvement and success. In the field of development, information and communication technologies
- defined broadly as any technologies used to create, disseminate and manage information, and
including the internet, broadcasting mediums, and both fixed line and mobile telephony - have
repeatedly demonstrated their use value in offering solutions to challenges facing emerging nations.
There is a great deal of excitement around the use of mobile technology to overcome infrastructural
limitations across all fields - business, health, education, agriculture and governance. Health in
particular has seen numerous applications of smartphones and analogue phones being used to
improve health coverage and access to services. The technology has been used to promote health
and healthy behaviours, raise awareness of health risks, facilitate early diagnosis, manage
treatment and adherence, increase surveillance and data collection, and in general improve health
systems management and information sharing. There is however the contrasting view that mobile
services and mobile technology solutions are not yet validated sufficiently to merit their use in
strengthening or replacing existing public health delivery programmes, and have no standard
operating systems.