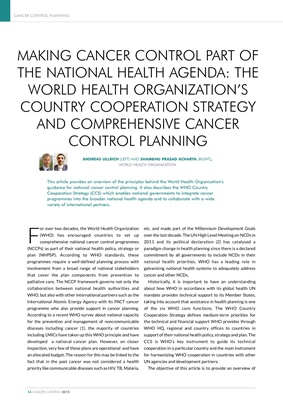 F
or over two decades, the World Health Organization
(WHO) has encouraged countries to set up
comprehensive national cancer control programmes
(NCCPs) as part of their national health policy, strategy or
plan (NHPSP). According to WHO standards, these
programmes require a well-defined planning process with
involvement from a broad range of national stakeholders
that cover the plan components from prevention to
palliative care. The NCCP framework governs not only the
collaboration between national health authorities and
WHO, but also with other international partners such as the
International Atomic Energy Agency with its PACT cancer
programme who also provide support in cancer planning.
According to a recent WHO survey about national capacity
for the prevention and management of noncommunicable
diseases including cancer (1), the majority of countries
including LMICs have taken up this WHO principle and have
developed a national cancer plan. However, on closer
inspection, very few of these plans are operational and have
an allocated budget. The reason for this may be linked to the
fact that in the past cancer was not considered a health
priority like communicable diseases such as HIV, TB, Malaria,
etc. and made part of the Millennium Development Goals
over the last decade. The UN High Level Meeting on NCDs in
2011 and its political declaration (2) has catalysed a
paradigm change in health planning since there is a declared
commitment by all governments to include NCDs in their
national health priorities. WHO has a leading role in
galvanising national health systems to adequately address
cancer and other NCDs.
Historically, it is important to have an understanding
about how WHO in accordance with its global health UN
mandate provides technical support to its Member States,
taking into account that assistance in health planning is one
of the six WHO core functions. The WHO Country
Cooperation Strategy defines medium-term priorities for
the technical and financial support WHO provides through
WHO HQ, regional and country offices to countries in
support of their national health policy, strategy and plan. The
CCS is WHO's key instrument to guide its technical
cooperation in a particular country and the main instrument
for harmonizing WHO cooperation in countries with other
UN agencies and development partners.
The objective of this article is to provide an overview of
MAKING CANCER CONTROL PART OF
THE NATIONAL HEALTH AGENDA: THE
WORLD HEALTH ORGANIZATION'S
COUNTRY COOPERATION STRATEGY
AND COMPREHENSIVE CANCER
CONTROL PLANNING
ANDREAS ULLRICH (LEFT) AND SHAMBHU PRASAD ACHARYA (RIGHT),
WORLD HEALTH ORGANIZATION
This article provides an overview of the principles behind the World Health Organization's
guidance for national cancer control planning. It also describes the WHO Country
Cooperation Strategy (CCS) which enables national governments to integrate cancer
programmes into the broader national health agenda and to collaborate with a wide
variety of international partners.
CANCER CONTROL PLANNING
14 CANCER CONTROL 2015