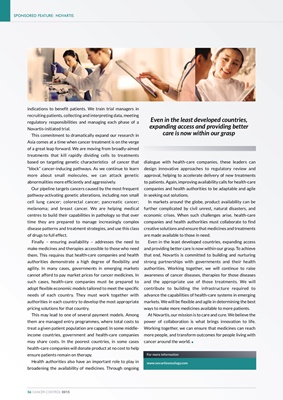 Even in the least developed countries,
expanding access and providing better
care is now within our grasp
indications to benefit patients. We train trial managers in
recruiting patients, collecting and interpreting data, meeting
regulatory responsibilities and managing each phase of a
Novartis-initiated trial.
This commitment to dramatically expand our research in
Asia comes at a time when cancer treatment is on the verge
of a great leap forward. We are moving from broadly-aimed
treatments that kill rapidly dividing cells to treatments
based on targeting genetic characteristics of cancer that
"block" cancer-inducing pathways. As we continue to learn
more about small molecules, we can attack genetic
abnormalities more efficiently and aggressively.
Our pipeline targets cancers caused by the most frequent
pathway-activating genetic alterations, including non small
cell lung cancer; colorectal cancer; pancreatic cancer;
melanoma; and breast cancer. We are helping medical
centres to build their capabilities in pathology so that over
time they are prepared to manage increasingly complex
disease patterns and treatment strategies, and use this class
of drugs to full effect.
Finally - ensuring availability - addresses the need to
make medicines and therapies accessible to those who need
them. This requires that health-care companies and health
authorities demonstrate a high degree of flexibility and
agility. In many cases, governments in emerging markets
cannot afford to pay market prices for cancer medicines. In
such cases, health-care companies must be prepared to
adopt flexible economic models tailored to meet the specific
needs of each country. They must work together with
authorities in each country to develop the most appropriate
pricing solutions for that country.
This may lead to one of several payment models. Among
them are managed entry programmes, where total costs to
treat a given patient population are capped. In some middleincome
countries, government and health-care companies
may share costs. In the poorest countries, in some cases
health-care companies will donate product at no cost to help
ensure patients remain on therapy.
Health authorities also have an important role to play in
broadening the availability of medicines. Through ongoing
dialogue with health-care companies, these leaders can
design innovative approaches to regulatory review and
approval, helping to accelerate delivery of new treatments
to patients. Again, improving availability calls for health-care
companies and health authorities to be adaptable and agile
in seeking out solutions.
In markets around the globe, product availability can be
further complicated by civil unrest, natural disasters, and
economic crises. When such challenges arise, health-care
companies and health authorities must collaborate to find
creative solutions and ensure that medicines and treatments
are made available to those in need.
Even in the least developed countries, expanding access
and providing better care is now within our grasp. To achieve
that end, Novartis is committed to building and nurturing
strong partnerships with governments and their health
authorities. Working together, we will continue to raise
awareness of cancer diseases, therapies for those diseases
and the appropriate use of those treatments. We will
contribute to building the infrastructure required to
advance the capabilities of health-care systems in emerging
markets. We will be flexible and agile in determining the best
ways to make more medicines available to more patients.
At Novartis, our mission is to care and cure. We believe the
power of collaboration is what brings innovation to life.
Working together, we can ensure that medicines can reach
more people, and transform outcomes for people living with
cancer around the world. l
SPONSORED FEATURE: NOVARTIS
56 CANCER CONTROL 2015
For more information