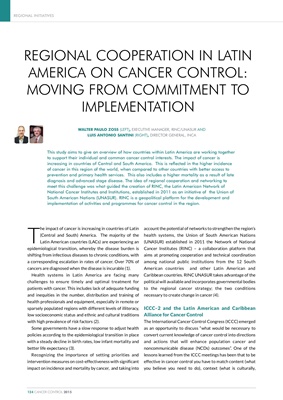 T
he impact of cancer is increasing in countries of Latin
(Central and South) America. The majority of the
Latin American countries (LACs) are experiencing an
epidemiological transition, whereby the disease burden is
shifting from infectious diseases to chronic conditions, with
a corresponding escalation in rates of cancer. Over 70% of
cancers are diagnosed when the disease is incurable (1).
Health systems in Latin America are facing many
challenges to ensure timely and optimal treatment for
patients with cancer. This includes lack of adequate funding
and inequities in the number, distribution and training of
health professionals and equipment, especially in remote or
sparsely populated regions with different levels of illiteracy,
low socioeconomic status and ethnic and cultural traditions
with high prevalence of risk factors (2).
Some governments have a slow response to adjust health
policies according to the epidemiological transition in place
with a steady decline in birth rates, low infant mortality and
better life expectancy (3).
Recognizing the importance of setting priorities and
intervention measures on cost-effectiveness with significant
impact on incidence and mortality by cancer, and taking into
account the potential of networks to strengthen the region's
health systems, the Union of South American Nations
(UNASUR) established in 2011 the Network of National
Cancer Institutes (RINC) - a collaboration platform that
aims at promoting cooperation and technical coordination
among national public institutions from the 12 South
American countries and other Latin American and
Caribbean countries. RINC UNASUR takes advantage of the
political will available and incorporates governmental bodies
to the regional cancer strategy; the two conditions
necessary to create change in cancer (4).
ICCC-2 and the Latin American and Caribbean
Alliance for Cancer Control
The International Cancer Control Congress (ICCC) emerged
as an opportunity to discuss "what would be necessary to
convert current knowledge of cancer control into directions
and actions that will enhance population cancer and
noncommunicable disease (NCDs) outcomes". One of the
lessons learned from the ICCC meetings has been that to be
effective in cancer control you have to match content (what
you believe you need to do), context (what is culturally,
REGIONAL COOPERATION IN LATIN
AMERICA ON CANCER CONTROL:
MOVING FROM COMMITMENT TO
IMPLEMENTATION
WALTER PAULO ZOSS (LEFT), EXECUTIVE MANAGER, RINC/UNASUR AND
LUIS ANTONIO SANTINI (RIGHT), DIRECTOR GENERAL, INCA
This study aims to give an overview of how countries within Latin America are working together
to support their individual and common cancer control interests. The impact of cancer is
increasing in countries of Central and South America. This is reflected in the higher incidence
of cancer in this region of the world, when compared to other countries with better access to
prevention and primary health services. This also includes a higher mortality as a result of late
diagnosis and advanced stage disease. The idea of regional cooperation and networking to
meet this challenge was what guided the creation of RINC, the Latin American Network of
National Cancer Institutes and Institutions, established in 2011 as an initiative of the Union of
South American Nations (UNASUR). RINC is a geopolitical platform for the development and
implementation of activities and programmes for cancer control in the region.
REGIONAL INITIATIVES
124 CANCER CONTROL 2015