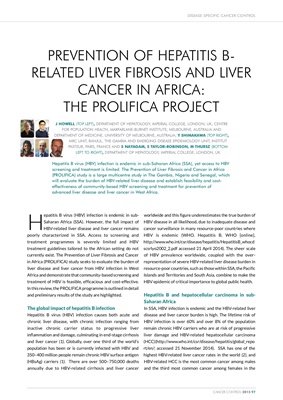 DISEASE-SPECIFIC CANCER CONTROL
CANCER CONTROL 2015 97
H
epatitis B virus (HBV) infection is endemic in subSaharan
Africa (SSA). However, the full impact of
HBV-related liver disease and liver cancer remains
poorly characterized in SSA. Access to screening and
treatment programmes is severely limited and HBV
treatment guidelines tailored to the African setting do not
currently exist. The Prevention of Liver Fibrosis and Cancer
in Africa (PROLIFICA) study seeks to evaluate the burden of
liver disease and liver cancer from HBV infection in West
Africa and demonstrate that community-based screening and
treatment of HBV is feasible, efficacious and cost-effective.
In this review, the PROLIFICA programme is outlined in detail
and preliminary results of the study are highlighted.
The global impact of hepatitis B infection
Hepatitis B virus (HBV) infection causes both acute and
chronic liver disease, with chronic infection ranging from
inactive chronic carrier status to progressive liver
inflammation and damage, culminating in end-stage cirrhosis
and liver cancer (1). Globally, over one third of the world's
population has been or is currently infected with HBV and
350-400 million people remain chronic HBV surface antigen
(HBsAg) carriers (1). There are over 500-750,000 deaths
annually due to HBV-related cirrhosis and liver cancer
worldwide and this figure underestimates the true burden of
HBV disease in all likelihood, due to inadequate disease and
cancer surveillance in many resource-poor countries where
HBV is endemic (WHO. Hepatitis B. WHO [online],
http://www.who.int/csr/disease/hepatitis/hepatitisb_whocd
scsrlyo2002_2.pdf accessed 21 April 2014). The sheer scale
of HBV prevalence worldwide, coupled with the overrepresentation
of severe HBV-related liver disease burden in
resource-poor countries, such as those within SSA, the Pacific
Islands and Territories and South Asia, combine to make the
HBV epidemic of critical importance to global public health.
Hepatitis B and hepatocellular carcinoma in subSaharan
Africa
In SSA, HBV infection is endemic and the HBV-related liver
disease and liver cancer burden is high. The lifetime risk of
HBV infection is over 60% and over 8% of the population
remain chronic HBV carriers who are at risk of progressive
liver damage and HBV-related hepatocellular carcinoma
(HCC)(http://www.who.int/csr/disease/hepatitis/global_repo
rt/en/; accessed 21 November 2014). SSA has one of the
highest HBV-related liver cancer rates in the world (2), and
HBV-related HCC is the most common cancer among males
and the third most common cancer among females in the
PREVENTION OF HEPATITIS BRELATED
LIVER FIBROSIS AND LIVER
CANCER IN AFRICA:
THE PROLIFICA PROJECT
J HOWELL (TOP LEFT), DEPARTMENT OF HEPATOLOGY, IMPERIAL COLLEGE, LONDON, UK, CENTRE
FOR POPULATION HEALTH, MARFARLANE-BURNET INSTITUTE, MELBOURNE, AUSTRALIA AND
DEPARTMENT OF MEDICINE, UNIVERSITY OF MELBOURNE, AUSTRALIA; Y SHIMAKAWA (TOP RIGHT),
MRC UNIT, BANJUL, THE GAMBIA AND EMERGING DISEASE EPIDEMIOLOGY UNIT, INSTITUT
PASTEUR, PARIS, FRANCE AND S NAYAGAM, S TAYLOR-ROBINSON, M THURSZ (BOTTOM
LEFT TO RIGHT), DEPARTMENT OF HEPATOLOGY, IMPERIAL COLLEGE, LONDON, UK
Hepatitis B virus (HBV) infection is endemic in sub-Saharan Africa (SSA), yet access to HBV
screening and treatment is limited. The Prevention of Liver Fibrosis and Cancer in Africa
(PROLIFICA) study is a large multicentre study in The Gambia, Nigeria and Senegal, which
will evaluate the burden of HBV-related liver disease and establish feasibility and costeffectiveness
of community-based HBV screening and treatment for prevention of
advanced liver disease and liver cancer in West Africa.