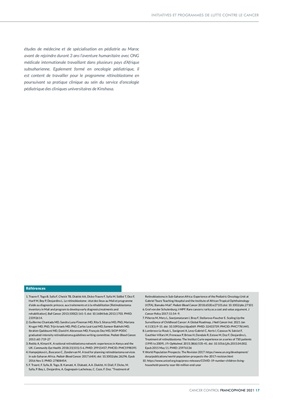 CANCER CONTROL FRANCOPHONE 2021 17
INITIATIVES ET PROGRAMMES DE LUTTE CONTRE LE CANCER
études de médecine et de spécialisation en pédiatrie au Maroc
avant de rejoindre durant 3 ans l'aventure humanitaire avec ONG
médicale internationale travaillant dans plusieurs pays d'Afrique
subsaharienne. Egalement formé en oncologie pédiatrique, il
est content de travailler pour le programme rétinoblastome en
poursuivant sa pratique clinique au sein du service d'oncologie
pédiatrique des cliniques universitaires de Kinshasa.
1. Traore F, Togo B, Sylla F, Cheick TB, Diakité AA, Dicko-Traore F, Sylla M, Sidibé T, Doz F,
Harif M, Bey P, Desjardins L. Le rétinoblastome : état des lieux au Mali et programme
d'aide au diagnostic précoce, aux traitements et à la réhabilitation [Retinoblastoma:
inventory in Mali and program to develop early diagnosis,treatments and
rehabilitation]. Bull Cancer. 2013;100(2):161-5. doi: 10.1684/bdc.2013.1703. PMID:
23392614.
2. Guillermo Chantada MD, Sandra Luna-Fineman MD, Rita S. Sitorus MD, PhD, Mariana
Kruger MD, PhD, Trijn Israels MD, PhD, Carlos Leal-Leal MD, Sameer Bakhshi MD,
Ibrahim Qaddoumi MD, David H. Abramson MD, François Doz MD, SIOP-PODC
graduated-intensity retinoblastoma guidelines writing committee. Pediatr Blood Cancer.
2013 ;60 :719-27
3. Reddy A, Kimani K. A national retinoblastoma network: experiences in Kenya and the
UK. Community Eye Health. 2018;31(101):5-6. PMID: 29915457; PMCID: PMC5998391
4. Hampejsková L, Bascaran C, Zondervan M. A tool for planning retinoblastoma services
in sub-Saharan Africa. Pediatr Blood Cancer. 2017;64(4). doi: 10.1002/pbc.26296. Epub
2016 Nov 3. PMID: 27808454.
5. F. Traoré, F. Sylla, B. Togo, B. Kamaté, K. Diabaté, A.A. Diakité, H. Diall, F. Dicko, M.
Sylla, P. Bey, L. Desjardins, A. Gagnepain-Lacheteau, C. Coze, F. Doz. "Treatment of
Retinoblastoma in Sub-Saharan Africa: Experience of the Pediatric Oncology Unit at
Gabriel Toure Teaching Hospital and the Institute of African Tropical Ophthalmology
(IOTA), Bamako-Mali". Pediatr Blood Cancer 2018;65(8):e27101.doi: 10.1002/pbc.27101
6. Graf von der Schulenburg J-MPF. Rare cancers: rarity as a cost and value argument. J
Cancer Policy 2017;11:54-9.
7. Piñeros M, Mery L, Soerjomataram I, Bray F, Steliarova-Foucher E. Scaling Up the
Surveillance of Childhood Cancer: A Global Roadmap. J Natl Cancer Inst. 2021 Jan
4;113(1):9-15. doi: 10.1093/jnci/djaa069. PMID: 32433739; PMCID: PMC7781445.
8. Lumbroso-Le Rouic L, Savignoni A, Levy-Gabriel C, Aerts I, Cassoux N, Salviat F,
Gauthier-Villars M, Freneaux P, Brisse H, Dendale R, Esteve M, Doz F, Desjardins L.
Treatment of retinoblastoma: The Institut Curie experience on a series of 730 patients
(1995 to 2009). J Fr Ophtalmol. 2015;38(6):535-41. doi: 10.1016/j.jfo.2015.04.002.
Epub 2015 May 11. PMID: 25976136
9. World Population Prospects: The Revision 2017: https://www.un.org/development/
desa/publications/world-population-prospects-the-2017-revision.html
10. https://www.unicef.org/eap/press-releases/COVID-19-number-children-livinghousehold-poverty-soar-86-million-end-year
Références