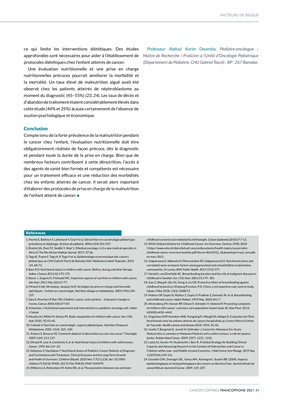 CANCER CONTROL FRANCOPHONE 2021 41
FACTEURS DE RISQUE
ce qui limite les interventions diététiques. Des études
approfondies sont nécessaires pour aider à l'établissement de
protocoles diététiques chez l'enfant atteints de cancer.
Une évaluation nutritionnelle et une prise en charge
nutritionnelles précoces pourrait améliorer la morbidité et
la mortalité. Un taux élevé de malnutrition aiguë avait été
observé chez les patients atteints de néphroblastome au
moment du diagnostic (45-55%) (23, 24). Les taux de décès et
d'abandon de traitement étaient considérablement élevés dans
cette étude (44% et 25%) àcause certainement de l'absence de
soutien psychologique et économique.
Conclusion
Compte tenu de la forte prévalence de la malnutrition pendant
le cancer chez l'enfant, l'évaluation nutritionnelle doit être
obligatoirement réalisée de façon précoce, dès le diagnostic
et pendant toute la durée de la prise en charge. Bien que de
nombreux facteurs contribuent à cette dénutrition, l'accès à
des agents de santé bien formés et compétents est nécessaire
pour un traitement efficace et une réduction des morbidités
chez les enfants atteints de cancer. Il serait alors important
d'élaborer des protocoles de prise en charge de la malnutrition
de l'enfant atteint de cancer. n
1. Martin E, Belleton F, Lallemand Y, Goy F et al. Dénutrition en cancérologie pédiatrique :
prévalence et dépistage. Archives de pédiatrie. 2006;13(4):352-357.
2. Brahmi SA, Ziani FZ, Seddik Y, Afqir S. [Medical oncology: is it a new medical specialty in
Africa?] The Pan African Medical Journal. 2017; 27:36.
3. Togo B, Traore F, Togo A. P, Togo P et al. Epidémiologie et pronostique des cancers
pédiatrique au CHU Gabriel Touré de Bamako Mali. Médecine et Santé Tropicales. 2014
;24 :68-72.
4. Barr R D. Nutritional status in children with cancer: Before, during and after therapy.
Indian J Cancer.2015;52:173-175.
5. Bauer J, Jürgens H, Frühwald MC. Important aspects of nutrition in children with cancer.
Adv Nutr. 2011 Mar;2(2):67-77.
6. Minard-Colin Véronique, Jacques Grill. Stratégies de prise en charge nutritionnelle
spécifiques : l'enfant en cancérologie. Nutrition clinique et métabolisme. 2005;19(4):234-
237.
7. Sala A, Pencharz P, Barr RD. Children, cancer, and nutrition - A dynamic triangle in
review. Cancer.2004;100:677-87.
8. Schoeman J. Nutritional assessment and intervention in a pediatric oncology unit. Indian
J Cancer.
9. Murphy AJ, White M, Davies PS. Body composition of children with cancer. Am J Clin
Nutr 2010 ; 92:55-60.
10. Colomb V. Nutrition en cancérologie : aspects pédiatriques. Nutrition Clinique et
Métabolisme. 2001 :15(4) :325-334.
11. Antoun S, Baracos VE. Comment dépister la dénutrition au cours du cancer ? Oncologie,
2009;11(4) :211-217.
12. Elhasid R, Laor A, Lischinsky S, et al. Nutritional status of children with solid tumors.
Cancer. 1999; 86:119-25.
13. Diakatou V, Vassilakou T. Nutritional Status of Pediatric Cancer Patients at Diagnosis
and Correlations with Treatment, Clinical Outcome and the Long-Term Growth
and Health of Survivors. Children (Basel). 2020 Nov 7;7(11):218. doi: 10.3390/
children7110218. PMID: 33171756; PMCID: PMC7694979.
14. Williams LA, Richardson M, Kehm RD, et al. Theassociation between sex and most
childhood cancersis not mediated by birthweight. Cancer Epidemiol.2018;57:7-12.
15. WHO Global Initiative for Childhood Cancer: An Overview. Genève, OMS, 2020
( https://www.who.int/docs/default-source/documents/health-topics/cancer/whochildhood-cancer-overview-booklet.pdf?sfvrsn=83cf4552_1&download=true),
consulté
en mars 2021.
16. GalgamuwaLS, Iddawela D, Dharmaratne SD, Galgamuwa GLS. Nutritional status and
correlated socio-economic factors among preschool and schoolchildren in plantation
communities, Sri Lanka. BMC Public Health. 2017;17(1):377.
17. Hardell L and Dreifaldt AC. Breastfeeding duration and the risk of malignant diseases in
childhood in Sweden. Eur J Clin Nutr. 2001;55:179-185.
18. Gao Z, Wang R, Qin ZX, Dong A, Liu CB. Protective effect of breastfeeding against
childhood leukemia in Zhejiang Province, P. R. China: a retrospective case control study.
Libyan J Med. 2018; 13(1):1508273.
19. Mathur GP, Gupta N, Mathur S, Gupta V, Pradhan S, Dwivedi JN, et al. Breastfeeding
and childhood cancer. Indian Pediatr. 1993 May; 30(5):651-7.
20. Ahrensberg JM, Hansen RP, Olesen F, Schrøder H, Vedsted P. Presenting symptoms
of children with cancer: a primary-care population-based study. Br JGen Pract. 2012;
62(600):e458-e465.
21. Ongotsoyi AHP, Kamdem AKB, Kamgaing N, MbogGJN, Adiogo D. Evaluation de l'État
Nutritionnel chez les enfants atteints de cancers hospitalisés au Centre Mère et Enfant
de Yaoundé. Health sciences and disease.2018 ;19(4) :42-46.
22. Israëls T, Borgstein E, Jamali M, DeKraker J, Caron Hn, Molyneux Em. Acute
Malnutrition is common in Malawian Patients with a wilms tumour: a role for peanut
butter. Pediatr blood Cancer. 2009 ;53(7) :1221-1226.
23. Ladas EJ, Gunter M, Huybrechts I, Barr R. A Global Strategy for Building Clinical
Capacity and Advancing Research in the Context of Malnutrition and Cancer in
Children within Low- and Middle-Income Countries. J Natl Cancer Inst Monogr. 2019 Sep
1;2019(54):149-151.
24. Goumbri OM., Domagni OE., Sanou AM., KonsegreV., Soudre RB. (2009). Aspects
épidémiologiques et histopathologiques des cancers au Burkina Faso. Journal africain du
cancer/African Journal of Cancer. 2009 ;1(4) :207.
Références
Professeur Abdoul Karim Doumbia, Pédiatre-oncologue ;
Maitre de Recherche / Praticien à l'Unité d'Oncologie Pédiatrique
(Département de Pédiatrie, CHU Gabriel Touré) ; BP : 267 Bamako.