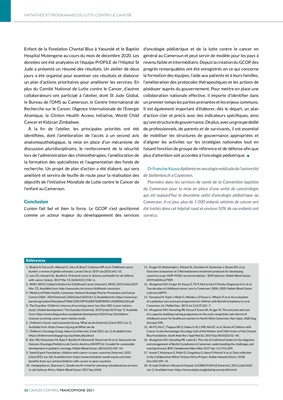 INITIATIVES ET PROGRAMMES DE LUTTE CONTRE LE CANCER
26 CANCER CONTROL FRANCOPHONE 2021
d'oncologie pédiatrique et de la lutte contre le cancer en
général au Cameroun et peut servir de modèle pour les pays à
revenu faible et intermédiaire. Depuis la création du GCOP, des
progrès remarquables ont été enregistrés en ce qui concerne
la formation des équipes, l'aide aux patients et à leurs familles,
l'amélioration des protocoles thérapeutiques et les actions de
plaidoyer auprès du gouvernement. Pour mettre en place une
collaboration nationale effective, il importe d'identifier dans
un premier temps les parties prenantes et les enjeux communs.
Il est également important d'élaborer, dès le départ, un plan
d'action clair et précis avec des indicateurs spécifiques, ainsi
qu'une structure de gouvernance. De plus, avec un groupe dédié
de professionnels, de parents et de survivants, il est essentiel
de mobiliser les structures de gouvernance appropriées et
d'aligner les activités sur les stratégies nationales tout en
faisant fonction de groupe de référence et de défense afin que
plus d'attention soit accordée à l'oncologie pédiatrique. n
Dr Francine Kouya diplômée en oncologie médicale de l'université
de Stellenbosch à Capetown.
Pionnière dans les services de santé de la Convention baptiste
du Cameroun pour la mise en place d'une unité de cancérologie
qui est aujourd'hui la deuxième unité d'oncologie pédiatrique au
Cameroun. A ce jour, plus de 1 000 enfants atteints de cancer ont
été traités dans cet hôpital rural et environ 50% de ces enfants ont
survécu.
Enfant de la Fondation Chantal Biya à Yaoundé et le Baptist
Hospital Mutengene au cours du mois de décembre 2020. Les
données ont été analysées et l'équipe PrOFILE de l'Hôpital St
Jude a présenté un résumé des résultats. Un atelier de deux
jours a été organisé pour examiner ces résultats et élaborer
un plan d'actions prioritaires pour améliorer les services. En
plus du Comité National de Lutte contre le Cancer, d'autres
collaborateurs ont participé à l'atelier, dont St Jude Global,
le Bureau de l'OMS au Cameroun, le Centre International de
Recherche sur le Cancer, l'Agence Internationale de l'Energie
Atomique, la Clinton Health Access Initiative, World Child
Cancer et Kidzcan Zimbabwe.
À la fin de l'atelier, les principales priorités ont été
identifiées, dont l'amélioration de l'accès à un second avis
anatomopathologique, la mise en place d'un mécanisme de
discussion pluridisciplinaire, le renforcement de la sécurité
lors de l'administration des chimiothérapies, l'amélioration de
la formation des spécialistes et l'augmentation des fonds de
recherche. Un projet de plan d'action a été élaboré, qui sera
amélioré et servira de feuille de route pour la réalisation des
objectifs de l'Initiative Mondiale de Lutte contre le Cancer de
l'enfant au Cameroun.
Conclusion
L'union fait bel et bien la force. Le GCOP s'est positionné
comme un acteur majeur du développement des services
1. Bhakta N, Force LM, Allemani C, Atun R, Bray F, Coleman MP, et al. Childhood cancer
burden: a review of global estimates. Lancet Oncol. 2019 Jan;20(1):e42-53.
2. Lam CG, Howard SC, Bouffet E, Pritchard-Jones K. Science and health for all children
with cancer. Science. 2019 Mar 15;363(6432):1182-6.
3. WHO. WHO | Global Initiative for Childhood Cancer [Internet]. WHO. 2019 [cited 2019
Mar 17]. Available from: http://www.who.int/cancer/childhood-cancer/en/
4. Ministry of Public Health, Cameroon. National Strategic Plan for Prevention and Cancer
Control 2020 - 2024 [Internet]. 2020 [cited 2020 Oct 1]. Available from: https://www.iccpportal.org/system/files/plans/FINAL%20COPY%20OF%20PSNPLCa%20ENGLISH.pdf
5. The Guardian. Children's chances of surviving cancer less than 30% in poor nations -
study | Global development | The Guardian [Internet]. 2019 [cited 2019 Apr 7]. Available
from: https://www.theguardian.com/global-development/2019/mar/26/childrenchances-surviving-cancer-poor-nations-study
6. Children's Cancer and Leukaemia Group. What we do [Internet]. [cited 2021 Jun 1].
Available from: https://www.cclg.org.uk/What-we-do
7. Children's Oncology Group. About Us [Internet]. [cited 2021 Jun 1]. Available from:
https://childrensoncologygroup.org/index.php/about
8. Barr RD, Klussmann FA, Baez F, Bonilla M, Moreno B, Navarrete M, et al. Asociación de
Hemato-Oncología Pediátrica de Centro América (AHOPCA): A model for sustainable
development in pediatric oncology. Pediatr Blood Cancer. 2014;61(2):345-54.
9. Sanofi Espoir Foundation. children-with-cancer-in-poor-countries [Internet]. 2021
[cited 2021 Jun 18]. Available from: https://www.fondation-sanofi-espoir.com/whobenefits-from-our-actions/children-with-cancer-in-poor-countries
10. Hampejskova L, Bascaran C, Zondervan M. A tool for planning retinoblastoma services
in sub-Saharan Africa. Pediatr Blood Cancer. 2017 Apr;64(4).
11. Kruger M, Wainwright L, Elsland SL, Davidson A, Schoeman J, Stones DK, et al.
Outcome comparison of 2 Retinoblastoma treatment protocols for developing
countries as per SIOP-PODC recommendations . SIOP abstract. Pediatr Blood Cancer.
2019;66(S4):e27989.
12. Afungchwi GM, Kruger M, Kouya F, Tih P, McCormick P, Pondy-Ongotsoyi A-H, et al.
Two decades of childhood cancer care in Cameroon: 2000-2020. Pediatr Blood Cancer.
n/a(n/a):e28997.
13. Tamannai M, Kaah J, Mbah G, Ndimba J, D'Souza C, Wharin P, et al. An evaluation
of a palliative care outreach programme for children with Burkitt lymphoma in rural
Cameroon. Int J Palliat Nurs. 2015 Jul 2;21(7):331-7.
14. Afungchwi GM, Hesseling PB, Kouya F, Enow SA, Kruger M. The outcome and cost
of a capacity-building training programme on the early recognition and referral of
childhood cancer for healthcare workers in North-West Cameroon. Nurs Open. 2020 Aug
26;nop2.598.
15. Ah PO, Ma C, Tiogouo NE D, Sadeu G W, L MB, Ndi KC, et al. Route of Children with
Cancer to the Hematology-Oncology Unit of the Mother and Child Center of the Chantal
Biya Foundation. South Asian Res J Appl Med Sci. 2019 Sep 30;01(02):32-40.
16. Afungchwi GM, Hesseling PB, Ladas EJ. The role of traditional healers in the diagnosis
and management of Burkitt lymphoma in Cameroon: understanding the challenges and
moving forward. BMC Complement Altern Med. 2017 Apr 11;17(1):209.
17. Israels T, Molyneux E, Pidini D, Chagaluka G, Nana P, Paintsil V, et al. Data collection
in the Collaborative Wilms Tumour Africa Project. Pediatr Hematol Oncol J. 2018
Dec;3(4):109-14.
18. St Jude Children's Research Hospial. SJCARES PrOFILE [Internet]. 2021 [cited 2021
Jun 1]. Available from: https://www.stjude.org/global/sjcares/profile.html
Références