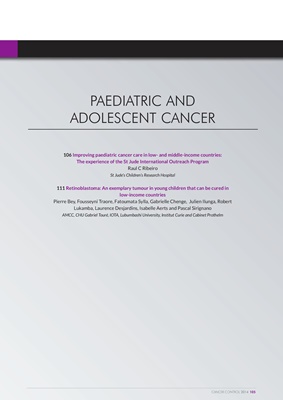 S
urvival of children with cancer has increased
dramatically in high-income nations, from essentially
zero in the early 1950s to rates approaching 80%
today. This success is due in part to disease-adapted
multimodality treatment, including surgery, chemotherapy
and radiation, that has been refined through a series of multiinstitutional clinical trials. Although new medications and
procedures, such as Gleevec and haematopoietic cell
transplantation, have contributed to survival, the
optimization of conventional drugs has accounted for most of
the treatment successes. Parallel gains in supportive care,
particularly in the management of infectious complications,
have made it possible to escalate the intensity and thus the
efficacy of these therapies. However, an estimated 80% of
about 200,000 children diagnosed with cancer each year lack
access to modern treatment and thus have dismal outcomes.
In a recent survey conducted in 10 countries, postulated
survival rates varied from less than 10% to 60%, depending
on the country. In four of the 10 countries surveyed, only
about 15-40% of expected cases would have ever been seen
by health care providers.
In 1994, the St Jude International Outreach Program (IOP)
was created with the mission of improving the survival of
children with cancer in low- and middle-income countries by
sharing knowledge and organizational skills and supporting
the implementation of paediatric oncology units in public
paediatric hospitals in selected countries. These "twinning"
programmes were envisioned as culturally sensitive
demonstration projects that would be integrated with and
adapted to the local health care systems.
We define our twinning programmes as long-term, close
relationships with centres in low- and middle-income
countries. These programmes have several essential
components. Strong local leadership of different programme
components is essential. Local institutional, medical and
community leaders create a sense of purpose by encouraging
team building and sharing the ownership of the process
among participants ranging from administrative staff and
health professionals involved in family support to those
directly involved in the treatment of children with cancer.
This consistent mutual recognition of the efforts made by
different team members and their inclusion in the decisionmaking process enables commitment, active
participation
and mission-oriented pursuits. Strong leaders are necessary
IMPROVING PAEDIATRIC CANCER
CARE IN LOW- AND MIDDLEINCOME COUNTRIES:
THE
EXPERIENCE OF THE ST JUDE
INTERNATIONAL OUTREACH
PROGRAM
RAUL C RIBEIRO, DEPARTMENT OF ONCOLOGY, ST JUDE CHILDREN'S RESEARCH HOSPITAL,
MEMPHIS, TN, USA AND DEPARTMENT OF PEDIATRICS, UNIVERSITY OF TENNESSEE
HEALTH SCIENCE CENTER, MEMPHIS, TN, USA
This article describes the outreach programme devised by the St Jude Children's Research Hospital
in the United States to help children suffering from cancer in low- and middle-income countries. It
considers the essential components required for successful twinning and introduces the nine
"Critical Cs" which need to be considered before embarking on a twinning partnership.
PAEDIATRIC AND ADOLESCENT CANCER
106 CANCER CONTROL 2014