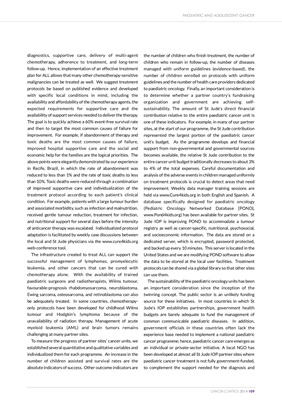 PAEDIATRIC AND ADOLESCENT CANCER
110 CANCER CONTROL 2014
treatment of childhood cancer. The NGOs are also an
important vehicle for community education and fundraising
for additional services, such as bone marrow transplantation,
clinical investigation, and continuing education of clinicians.
The key leaders of the local NGOs are trained by ALSAC, the
St Jude fundraising organization. Importantly, all funds raised
in partner countries are used within that country.
Some key members of the partner-site multidisciplinary
teams receive salary supplementation from the NGOs to
allow them to work full-time in the paediatric oncology unit.
Although the amount varies among the different partner
sites, annual salary supplementation is commensurate to the
salaries of the physicians working in paediatric
haematology/oncology that combine academic and private
activities. This strategy aims to retain these individuals in the
public hospitals, which serve large patient populations and
have insufficient personnel, medications, and infrastructure.
The St Jude IOP twinning programmes have demonstrated
that it is feasible and affordable to rapidly improve the cure
rates of children with cancer in countries with limited
resources and to improve their access to care in public
hospitals. The major challenge is to scale up the quantity and
quality of care and services for partner sites and countries in
the region. Recently, St Jude IOP has initiated an innovative
model in an effort to help partner sites expand their local
programmes in a regionally oriented fashion. In this new
model, a St Jude international partner site will be equipped to
provide most of the services required in paediatric oncology
including diagnosis, supportive care and training
opportunities. After reaching this status, the centre (Hub) will
be able to provide assistance to other centres that exist both
within the country and regionally (Spokes). This Hub-Spoke
model has not been tried before in health care. We hope to
see paediatric international oncology become an academic
discipline within paediatric and medical oncology, with the
goal of creating models to implement existent knowledge in
countries with limited resources to avoid unnecessary death
and suffering caused by childhood cancer. l
Acknowledgements
This work was supported in part by a Cancer Center Support
Grant (CA21765) from the National Institutes of Health and by
the American Lebanese Syrian Associated Charities (ALSAC).
Dr Raul C Ribeiro, MD, works at the Department of Oncology at
St Jude Children's Research Hospital, Memphis, TN, USA and at
the Department of Pediatrics, University of Tennessee Health
Science Center, Memphis, TN, USA.
Reading list
Ayoub L, Fu L, Pena A, et al. Implementation of a data management program in a
pediatric cancer unit in a low income country. Pediatr Blood Cancer. 2007;49:23-27
Baez F, Fossati BF, Ocampo E, et al. Treatment of childhood Wilms' tumor without
radiotherapy in Nicaragua. Ann Oncol. 2002;13:944-948
Baez F, Ocampo E, Conter V, et al. Treatment of childhood Hodgkin's disease with COPP
or COPP-ABV (hybrid) without radiotherapy in Nicaragua. Ann Oncol. 1997;8:247-250
Barr RD, Gonzalez A, Longchong M, et al. Health status and health-related quality of life
in survivors of cancer in childhood in Latin America: a MISPHO feasibility study. Int J
Oncol. 2001;19:413-421
Barr RD, Ribeiro RC, Agarwal BR, et al. Pediatric oncology in countries with limited
resources. In: Pizzo P.A., Poplack D.G. (eds). Principles and practice of pediatric
oncology.5th edition. Philadelphia, Pa, Lippincott, Williams and Wilkins; 2006:1604-
1616
Burton A. The UICC My Child Matters initiative awards: combating cancer in children in
the developing world. Lancet Oncol. 2006;7:13-14
Corrigan JJ, Feig SA. Guidelines for pediatric cancer centers. Pediatrics. 2004;113:1833-
1835
Day SW, Dycus PM, Chismark EA, et al.. Quality assessment of pediatric oncology
nursing care in a Central American country: findings, recommendations, and
preliminary outcomes. Pediatr Nurs. 2008;34:367-373
Howard SC, Marinoni M, Castillo L, et al. Improving outcomes for children with cancer in
low-income countries in Latin America: a report on the recent meetings of the Monza
International School of Pediatric Hematology/Oncology (MISPHO)-Part I. Pediatr Blood
Cancer. 2007;48:364-369
Howard SC, Metzger ML, Wilimas JA, et al. Childhood cancer epidemiology in lowincome countries. Cancer.
2008;112:461-472
Howard SC, Ortiz R, Baez LF, et al. Protocol-based treatment for children with cancer in
low income countries in Latin America: a report on the recent meetings of the Monza
International School of Pediatric Hematology/Oncology (MISPHO)--part II. Pediatr
Blood Cancer. 2007;48:486-490
Howard SC, Pedrosa M, Lins M, et al. Establishment of a pediatric oncology program and
outcomes of childhood acute lymphoblastic leukemia in a resource-poor area. JAMA.
2004;291:2471-2475
Hsu SC, Metzger ML, Hudson MM, et al. Comparison of treatment outcomes of
childhood Hodgkin lymphoma in two US centers and a center in Recife, Brazil. Pediatr
Blood Cancer. 2007;49:139-144
Jemal A, Siegel R, Ward E, et al. Cancer statistics, 2007. CA Cancer J Clin. 2007;57:43-66
Kellie SJ, Howard SC. Global child health priorities: what role for paediatric
oncologists? Eur J Cancer. 2008;44:2388-2396.
Metzger ML, Howard SC, Fu LC, et al. Outcome of childhood acute lymphoblastic
leukaemia in resource-poor countries. Lancet. 2003;362:706-708.
Mostert S, Sitaresmi MN, Gundy CM, et al. Influence of socioeconomic status on
childhood acute lymphoblastic leukemia treatment in Indonesia. Pediatrics.
2006;118:e1600-e1606
Naafs-Wilstra M, Barr R, Greenberg C, et al. Pediatric oncology in developing countries:
development of an alliance of stakeholders. Med Pediatr Oncol. 2001;36:305-309
Ribeiro RC, Pui CH. Saving the children - improving childhood cancer treatment in
developing countries. N Engl J Med. 2005;352:2158-2160
Ribeiro RC, Rego E. Management of APL in developing countries: epidemiology,
challenges and opportunities for international collaboration. Hematology Am Soc
Hematol Educ Program. 2006;162-168
Ribeiro RC, Steliarova-Foucher E, Magrath I, et al. Baseline status of paediatric oncology
care in ten low-income or mid-income countries receiving My Child Matters support: a
descriptive study. Lancet Oncol. 2008;9:721-729
Sala A, Barr RD, Masera G. A survey of resources and activities in the MISPHO family of
institutions in Latin America: a comparison of two eras. Pediatr Blood Cancer.
2004;43:758-764
Steliarova-Foucher E, Hery C, Pisani P. The 10 My Child Matters countries. Childhood
Cancer: rising to the challenge. Geneva: UICC, 2006;15-30