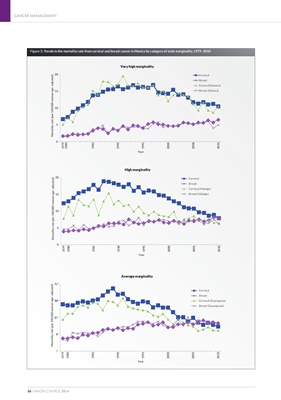 !"
5
10
15
20 1979
1980
1985
1990
1995
2000
2005
2010
Mortality rate (per 100,000 woman age- adjusted)
Year
Low marginality
0
5
10
15
20 1979
1980
1985
1990
1995
2000
2005
2010
Mortality rate (per 100,000 woman age- adjusted)
Year
Very low marginality
Cervical
Breast
Cervical (Jalisco)
Breast (Jalisco)
Cervical
Breast
Cervical (Nuevo Leon)
Breast (Nuevo Leon)
Figure 3: Trends in the mortality rate from cervical and breast cancer in Mexico by category of state marginality, 1979-2010 continued
Notes: These data are aggregated according to the index of deprivation (marginality) developed and maintained by the National Population Council. Mexico's five-category deprivation index
differentiates the 32 states (federal entities) and municipalities according to the proportion of the population with low levels of education, residence in inadequate dwellings (without drainage,
electricity or water, or characterized by overcrowding or earth flooring), low household monetary income, and rural residence.
Source: Statistics based on data from Directorate General of Health Information (DGIS). Database of general deaths 1979-2010. [on line]: National System of Health Information (SINAIS).
[Mexico]: Ministry of Health. < http://www.sinais.salud.gob.mx > and National Population Council (CONAPO). Deprivation index by State and Municipality 2010. [on line]:
<http://www.conapo.gob.mx/es/conapo/indices_de_marginacion_2010_por_entidad_federativa_y_municipio&gt;.
CANCER MANAGEMENT
CANCER CONTROL 2014 57
emerge as a major cause of mortality within these same
populations. Future increases in life expectancy, as well as in
the prevalence of risk factors related to the adoption of
western lifestyles, will affect the incidence of women's
cancers in low- and middle-income countries.40 Even modest
changes in reproductive behaviour, patterns in childbearing
(reductions in the number of children, reduced age at
menarche and increases in age at first birth and nutrition
(obesity) - factors that are associated with increased
economic and social development and improvements in the
situation of women and are hence not easily reversible - can
translate into substantial increases in the breast cancer
burden in these countries.41 Moreover, breast cancer is also
associated with risk factors related to postmenopausal
weight gain and alcohol consumption. Attempts to minimize
risk factors and to maximize protective factors such as good
breast-feeding practices42 are important for reducing
population-level breast cancer risk and these should be
further studied and evaluated. These interventions will at the
same time, support women's health across the life cycle.
While primary prevention can help to curb the rise in
breast cancer incidence,43 the effects will not be felt for
several decades. In the case of breast cancer, the few known,
population-based, preventive interventions must be