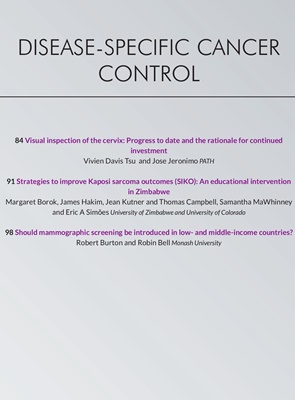 C
ervical cancer is a preventable neoplasia that
continues to be a public health problem in many
developing countries. The disease is associated with
chronic infection by one or more of the 14 oncogenic types of
the human papillomavirus (HPV), a sexually transmitted virus
very prevalent in most populations in the world.1 In 90% of
women, HPV infections resolve spontaneously within two
years, but in 10% of cases they persist for many years and can
evolve into precancerous lesions in either the squamous or
(less commonly) columnar epithelium of cervix.
2 Invasive
cervical cancer is preceded by 10 to 20 years of
intraepithelial precancerous changes3 that can be detected
and easily treated, interrupting the natural history of the
disease and preventing the death of women.
Cervical cytology (Pap smear) has been used for many
decades as the preferred screening test, and consequently
the incidence and mortality of cervical cancer have decreased
in most developed countries. However, the Pap smear has
had little or no impact in most developing countries due to the
lack of resources to properly implement it, especially
considering that Pap smear is a multi-step process that
requires properly trained cyto-technologists, adequately
implemented laboratories, reliable notification and referral
systems, and frequent re-screening.
4 For this reason the
burden of the disease affects disproportionally women from
developing countries, since they do not have proper
screening and treatment of the precancerous stages of the
disease.
The limitations of Pap smear prompted researchers to
explore new alternatives more suitable for areas with limited
resources. Approximately 20 years ago visual inspection with
acetic acid (VIA) was proposed and tested for primary
cervical cancer screening.5 VIA is a simple screening test
based on the principle that precancerous lesions in the
cervical epithelium turn white approximately one minute
after they are exposed to 5% acetic acid (vinegar); this is the
same principle used by colposcopy since the 1920s. The
difference is that colposcopy uses a device (colposcope) that
provides special lighting and 4 to 20x magnification. Instead,
VIA evaluates the visual changes with a naked-eye inspection
(unmagnified) using a simple light source (torch or 100v
lamp).6 Mid-level personnel like nurses and midwives have
demonstrated their ability to do VIA after just a week of
theoretical and practical training. Multiple evaluations during
the last two decades have shown that VIA is equally or more
sensitive than Pap smear for detecting precancerous lesions
of the uterine cervix. It has the additional advantage of
providing a result within a few minutes, making it possible to
provide treatment (if it is available at the facility) or
counselling about referral immediately.
In the last decade, new tests for detection of HPV have
been introduced.7-9 These new tests are highly sensitive for
VISUAL INSPECTION OF THE
CERVIX: PROGRESS TO DATE AND
THE RATIONALE FOR CONTINUED
INVESTMENT
VIVIEN DAVIS TSU, (PICTURED) ASSOCIATE DIRECTOR, REPRODUCTIVE HEALTH GLOBAL PROGRAM,
PATH; DIRECTOR CERVICAL CANCER PREVENTION PROJECT, PATH AND AFFILIATE PROFESSOR OF
EPIDEMIOLOGY, UNIVERSITY OF WASHINGTON, USA AND JOSE JERONIMO SENIOR ADVISOR,
WOMEN'S CANCERS, PATH
Cervical cancer continues to be a public health problem in many developing countries despite
the availability of effective preventive measures such as vaccination and screening. Visual
inspection with acetic acid (VIA) is a low-cost test that has now been validated for primary
cervical cancer screening. Despite the advances in vaccination and more sensitive molecular
tests, there are compelling reasons for continuing and even accelerating the investment in
programmes based on VIA and precancer treatment.
DISEASE-SPECIFIC CANCER CONTROL
84 CANCER CONTROL 2014